Searching for the ideal toys to engage your Border Collie's sharp mind and active body? Look no further! With their intense energy and high IQ, these dogs require toys that go beyond the ordinary. This guide on top-tier toys for Border Collies is here to ease your search. We're here to ensure your furry companion gets their fair share of fun, mental stimulation, and safe play.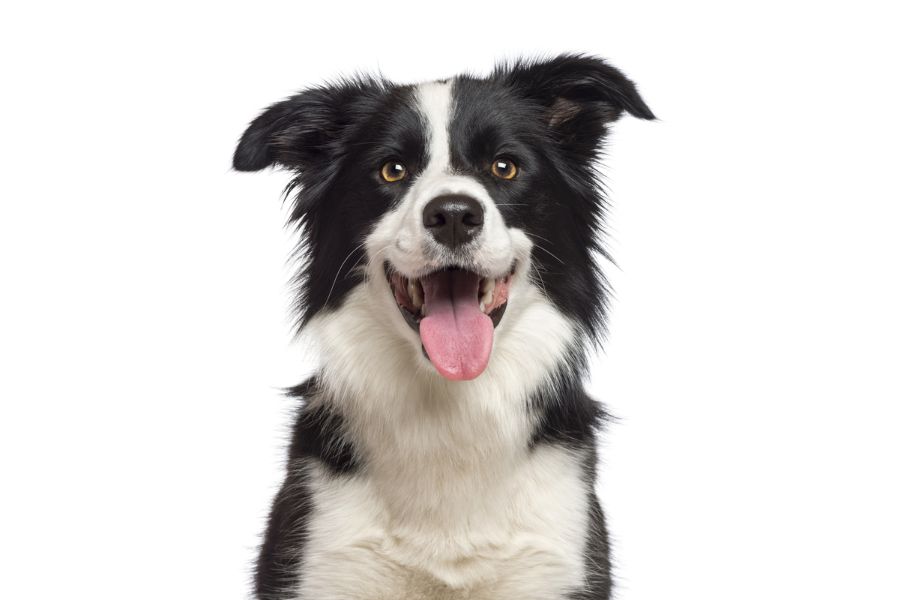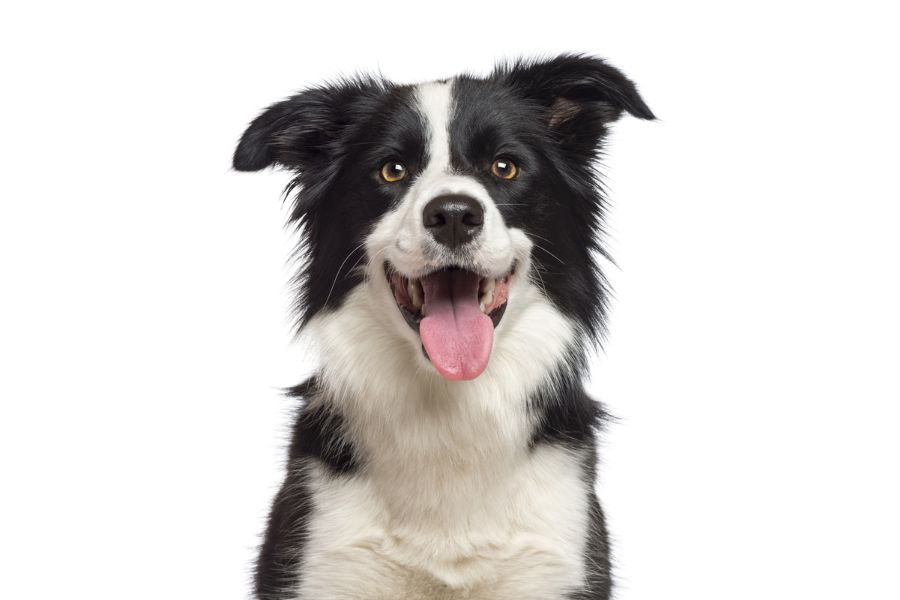 Toys play a key role in managing the energy levels of your Border Collie. True, these dogs come packed with vigor, zest, and a pinch of mischief. But, that's part of the charm, right? Now, if left alone with no way to vent, these pooches might turn that lively spirit into negative traits. Nipped shoes, anyone? Not quite the memento you'd want from your beloved pet.
Enter toys. The right toy can work magic, keeping your Border Collie engaged and entertained. Picture this: a squeaky rubber bone, just the right size for your Collie to pounce upon, chew, and chase. Ah, the joy it brings! The toy serves as a healthy energy outlet for your pet, channeling their vitality in the right direction. It also brings them joy and satisfaction, promoting their overall wellbeing. Thus, the chance of them resorting to mischievous activities when left alone significantly decreases.
So, yes, toys play a crucial role in managing your Border Collie's energy levels. Pick the right toy, and you transform a potential home-wrecker into a playful, happy pet. Quite a win, wouldn't you say?
So, in your quest for the best dog toys for Border Collies, bear in mind their inherent traits and energy levels. Keep them entertained, and they'll return the favor with boundless love and loyalty.
What Considerations Should I Make When Buying A Toy For My Border Collie?
When it comes to choosing toys for your Border Collie, there's a bit more to it than just picking the first toy you see on the shelf. You'll want to keep your canine friend entertained, yes, but it's also essential to consider the type of toy that suits your dog's needs.
Look for toys that match your Border Collie's active nature. Fetch toys, frisbees, or toys that move on their own can keep your pet engaged and provide the physical stimulation they need.
Bear in mind the durability of the toy too. Given the intense energy and biting power of Border Collies, opt for toys crafted from robust, high-quality materials. This way, you won't find yourself frequently replacing shredded toys, and your dog stays safe from accidental ingestion of broken parts.
Lastly, puzzle toys could be a smart pick. Border Collies are intelligent dogs that enjoy mental stimulation. Toys that challenge them mentally while providing a treat as a reward can keep them happily entertained for hours.
In essence, selecting the best toy for your Border Collie boils down to understanding their unique needs and preferences. When you make the right choice, you'll have a happier dog and a more peaceful home!
Suggested Toys
Best Dog Toys For Border Collies
Best Dog Toys For Border Collies
Detailed Overview
In my dog toy kit, the Chuckit! Sport Launcher sits as a top pick. Picture this: you have a Border Collie, known for its high energy. Daily play is not just fun, it's a must. This is where the launcher steps in, turning an average ball toss into a thrilling chase for my furry buddy.
Long handle? It's got one. This lets me throw the ball with more gusto, much to the delight of my Collie. The thrill of the chase lights up his eyes, and that's a sight I cherish. Crafted with durable plastic, the launcher secures the ball until I swing. An ergonomic grip ensures my comfort, even during long play sessions.
Another perk is the no-touch pick-up. Gone are the days of handling mucky balls. The launcher does the job, scooping the ball right up. It also shows its might by withstanding daily use with no fuss.
I did have a hard time getting used to it but I have learned how to use it pretty well. At first, the launcher might grip the ball a little too tightly and cause your throws to require a little more "zest" to get it to leave the little ball-holding part of the item…but once you've given it hell a few times and let the plastic fold out a little, you'll be good to go and your dog will love you and sing dog songs in your honor.
And it's not just useful – it's travel-friendly too! It's a must-have on our trips outdoors.
In short, it meets my Collie's play and exercise needs. It's a toy that excites, engages, and brings out the chase instinct in Border Collies. If that's what you're looking for, I say go for the Chuckit! Sport Launcher.
What are negative Border Collie traits?
What I Like
Increase the distance of your throw
Pick up the ball without bending down or touching it directly
Includes a Ball
What I Don't Like
Specific Balls Needed
The size might make it inconvenient to transport
Detailed Overview
In my quest for top-notch toys for my vibrant Border Collie, Outward Hound Hide A Squirrel Plush Dog Toy Puzzle has claimed a high rank. Its charm lies in the thrilling design – a soft log sheltering cute squirrels. My dog fell for it in no time.
As he sniffed out each squirrel, his tail wagged in pure delight. The log also found favor, being carried around like a prized trophy. This toy doesn't just keep him active, it satisfies his hunting drive, a trait inherent in Border Collies.
Surprisingly, the soft squirrels have endured his chew sessions, reflecting quality in their make. Also, they offer a gentle texture for my pet's comfort.
A hidden feature, the squirrel's squeakers, tickled my dog's fancy. The unique sound they made on squeezing piqued his interest.
The puppy has to pull all of the squirrels out of the log to get a treat. It keeps him busy for 15-20 minutes which is a long time for him. Soft, squeaky squirrels keep him entertained and he likes to shake the log, too. This is the 2nd one I have purchased as in the first all the squirrels were chewed up rather quickly but it seems this time he hasn't destroyed them.
In a nutshell, this toy isn't just for play. It serves as a great tool for interactive fun, mental engagement, and a soothing chew buddy. For those in search of the best dog toys for Border Collies, this puzzle toy makes a solid choice.
What I Like
Interactive Play
Multiple Squeakers
The soft texture is gentle on the dog's mouth
What I Don't Like
Not for Aggressive Chewers
Possible Choking Hazard
Squeaker Lifespan
Detailed Overview
As a Border Collie's guardian, the KONG – Senior Dog Toy has won my seal of approval. Senior dogs, like my collie, crave both mental fun and physical zest. This toy scores high on both fronts.
Crafted with soft yet robust rubber, it shows kindness to my older dog's gums and teeth. He finds pure delight in the act of chewing, and the toy's unique bounce keeps him intrigued.
A standout feature is the hollow core. Filled with treats or kibble, it morphs into an enticing enigma for him. It occupies him for extended times, posing a fun test that encourages sound chewing habits. I stuff it with peanut butter and then freeze it in the freezer and give it to our doggie when I leave and he is delighted to go to his kennel until I return.
I have found this to be one of the best mixes for your pup, and healthy too!
A handful of our pup's Kibble
A few Mini Dog Treats
A few frozen blueberries, although fresh will do
Top it off and seal with some organic no-sugar Peanut Butter
Border Collies are a lively breed, even in their later years, and the KONG Senior Dog Toy matches his energy. Its strong build endures his playful nature, and its light weight makes it easy for him to tote around.
In terms of its flavor, the KONG Senior Dog Toy doesn't come with a built-in taste. Instead, it carries the distinct smell of natural rubber. While some dogs find this rubbery scent intriguing, others, or even their humans, may find it a bit off-putting. It's something to consider when deciding on this toy. Despite this, the ability to stuff it with your dog's favorite treats could easily overshadow any initial reluctance due to its scent.
After talking with others, I can attest to the KONG Senior's utility. Its erratic bounce sparks lively fetch games, keeping older chewers active. Notably, experts from vet clinics to training centers commend its durability, echoing our positive experience.
My interaction with the KONG Senior Dog Toy and input from fellow dog owners suggest it's a top pick for senior Border Collies. Its design, purpose, and quality bring a spark of joy to our pet's playtime
What I Like
Durable
Mental Stimulation
Good for Teeth
What I Don't Like
Not for Heavy Chewers
Cleaning Difficulty
Detailed Overview
In my journey of pet ownership, the Jolly Pets Romp-n-Roll Rope and Ball Dog Toy has found a special place. I must say, it's been a real boon for my active dogs. Not just a ball, not just a rope – but the best of both! The ball is made with a puncture-resistant material, a real plus for my strong chewers. They love to fetch it and tug it, and I even join in the fun with the tug-of-war!
The real kick, though, is that the ball can float. My pups and I have taken it to the beach, and it's turned our outings into so much more than just a walk. Also, the rope is sturdy and long-lasting, making this toy a real investment in fun.
Topped off with a soothing blueberry scent, this toy has become a hit among pet owners. The fact that it's made in the USA and supports shelter dogs further cements its appeal. Note, while durable, supervising play is always advisable for safety.
The ball is some kind of rubber and is flexible enough for my dog to pick up in his mouth. He hasn't made any punctures in it yet but we can see teeth marks on it. I am hoping that he won't be able to tear it apart. So far it is holding up great. The rope part is thick and he can carry it from that too. We're so happy that we found this as an outdoor toy for him and can't believe that we never thought of this before.
Speaking with other dog parents, they share similar sentiments. Their dogs find the toy engaging, and its dual functionality really gives the pets a variety of play options.
I would definitely recommend the Jolly Pets Romp-n-Roll Rope and Ball Dog Toy to any Border Collie owner. It's a fun, engaging, and durable option that offers countless hours of entertainment and exercise. A true win-win for both pet and owner!
Do Border Collies like to be left alone?
What I Like
Durability
The rope and ball combination
Easy-Grip Rope
Gentle Scent
Non-toxic and Safe
What I Don't Like
Not be suitable for very small or large breeds.
The rope might not withstand heavy chewers.
Detailed Overview
I've been using the Petstages Super Dogwood Chew Stick for a while now, and it's been a great find. It's a larger version of the Original Dogwood formula that dog owners, including myself, have come to love.
This chew stick simulates the taste and texture of real wood, appealing to your dog's innate urge to chew, but without the splintering risk of actual sticks, providing a much safer alternative. The sturdy synthetic-wood combination adds to its durability, ensuring it stands up to even the most aggressive chewers.
Plus, it's delightfully mess-free, leaving my floors clean while keeping my fur buddy occupied and diverting any destructive chewing habits. Made with lead and phthalate-free materials from the USA, it's safe I can trust. My pet absolutely adores the Super Dogwood Stick. It's also a common pick among other dog owners I've mingled with.
I read one review that said it didn't last long. Of course it doesn't last long, longevity is going to depend on how much your dog chews on it. But it's a stick, it's not meant to last forever. My only complaint is that it tends to leave little wood shavings in the dog bed. They aren't sharp, but they can sound pretty nasty in a vacuum cleaner. So be warned on that, I now use a shop vac and have no issues.
Petstages Super Dogwood, in my view, ranks among the best dog toys for Border Collies. A blend of entertainment and safety that your canine friend will cherish. Consider this toy – your furry pal will thank you for it!
What I Like
Durable
Safety
Mess-free
Taste and Texture
What I Don't Like
Hardness
Not for ingestion
Detailed Overview
My Border Collie and I have had some serious fun with the TRIXIE Flip Board Strategy Game. I know how crucial it is to keep their intelligent minds busy and this game does the job.
At first glance, you'd see a compact, playful, vibrant toy, but it's more than just looks. The toy is designed with various compartments, each fitted with a unique mechanism like knobs, lids, and cones. It's a mental challenge for my Border Collie to figure out how to get the treats hidden within. A mere sniff is not enough; they have to think, paw, nudge, and flip to earn their reward.
What's even better is that the level of difficulty can be adjusted, making it an adaptable puzzle for my dog as he learns. It's not just about fun, it's about enhancing my dog's problem-solving skills.
You'll need to use smaller kibble/ treats since the holes aren't too big. As far as I know it has no suction and didn't come with suction cups so I've had to put my foot on the platform to keep it still while he spins the bottles. The lids are made of pretty soft plastic so really any dog could chew it off or mangle it up but it's fine if you watch it, and remind them how to get the treats out.
Rest assured, these BPA-Free and Lead-Free toys prioritize your pet's safety and are easy to clean. With helpful tips included, enhance your dog's training while keeping a watchful eye as no toy is indestructible.
Overall, it's a joy to watch my Border Collie explore and solve the puzzle. If you're looking for a toy that challenges your dog's intelligence while being a source of entertainment, the TRIXIE Flip Board Strategy Game is the way to go. A quick clean-up, and we are ready for another round of mental gymnastics!
What I Like
Cognitive Development
Adjustability
Entertaining
What I Don't Like
The small pieces could potentially be a choking hazard
Not Chew-Proof
Detailed Overview
Dog Squeaky Chew Toy, a rubber carrot mimic, garnering his full attention with its vibrant hue and playful sounds.
Constructed for the determined chewers, it passes the endurance test with my Border Collie. Its durability has left a solid impression, holding its own against his incessant biting. The rubber carrot provides a safe outlet for his urge to chew while its unusual shape allows a comfortable grasp.
This delightful toy is scented with a milk flavor that truly entices my dog's taste buds, triggering his instinctive desire to chew.
This toy is more than meets the eye with its capacity for training and teeth cleaning. The raised texture on the surface of the toy serves a dual purpose, delivering a stimulating sensory experience for my pup while also effectively cleaning food residues from her teeth. Regular use has given my dog's teeth a healthier appearance.
In training, it's a welcome addition to our fetching games with its bounce. Let's not forget, it's more than a mere plaything, serving as an interactive tool promoting physical activity and mental engagement for your Border Collie.
While this toy offers many benefits, it's important to note it may not withstand the tenacity of aggressive chewers. In my experience, I've found that it tends to wear out faster under rigorous gnawing, making it less durable than expected. Therefore, if your Border Collie has a strong bite, this toy might not be the best choice for long-term use.
True, it's not without flaws. Heavy chewers like my Collie might find the squeaker gives up over time. But that's a minor setback considering the joy and enrichment this chew toy brings.
How do I keep my Border Collie entertained?
What I Like
Dental Health
Squeaky sound
What I Don't Like
Not for Aggressive Chewers
Rubber Smell
Small pieces that can be a choking hazard
Detailed Overview
The DR Catch Dog Food Puzzle Feeder Toy sparked a transformation in our playtime. More than a mere toy, it's a mental expedition, capturing my dog's focus for hours on end.
The distinct design of this feeder is a notable aspect. Cleverly built, it doles out treats during play, presenting a delightful challenge for my furry friend. A handful of his favorite snacks is all it takes to keep him engaged while learning. Find food by sliding parts to improve eating pleasure and IQ.
This is actually a really cool toy for dogs. It teaches my Border Collie to use his nose/sense of smell. My dog is lazy, so I have to slide the things open once in a while so he can see that there's still treats in it. Usually dog toys are cheaply made but this is sturdy and durable.
I'm trying to keep his mind sharp but it's perfect for dogs of all ages. It has some weight to it so it doesn't slide around. If you're looking to teach a young dog new tricks, or looking to keep an old dog's mind sharp, this is the perfect toy. So glad I found this.
One more perk is the ease of cleaning. Dishwasher-safe, maintaining hygiene is a breeze, ensuring it's ready for the next round of fun.
The toy's endurance mirrors my dog's spirit—it stands firm even during his most spirited play. Non-toxic, high-quality materials form its structure, which is a huge relief. When it comes to my dog's toys, safety tops my list of concerns.
However, it's important to remember that no toy is indestructible. Always supervise your pet during playtime, and promptly remove and replace the toy if any damage occurs. Prioritize your pet's safety while enjoying the benefits of this innovative puzzle feeder.
All in all, as a devoted dog parent, I vouch for the DR Catch Dog Food Puzzle Feeder Toy. For all Border Collie owners out there, it's not just a plaything. It's an engaging, exciting, and intellectually stimulating journey for our furry companions.
What I Like
Slow Feeding
Adjustable Difficulty
What I Don't Like
It might not be suitable for all breeds
May Require Regular Replacement
Frequently Asked Questions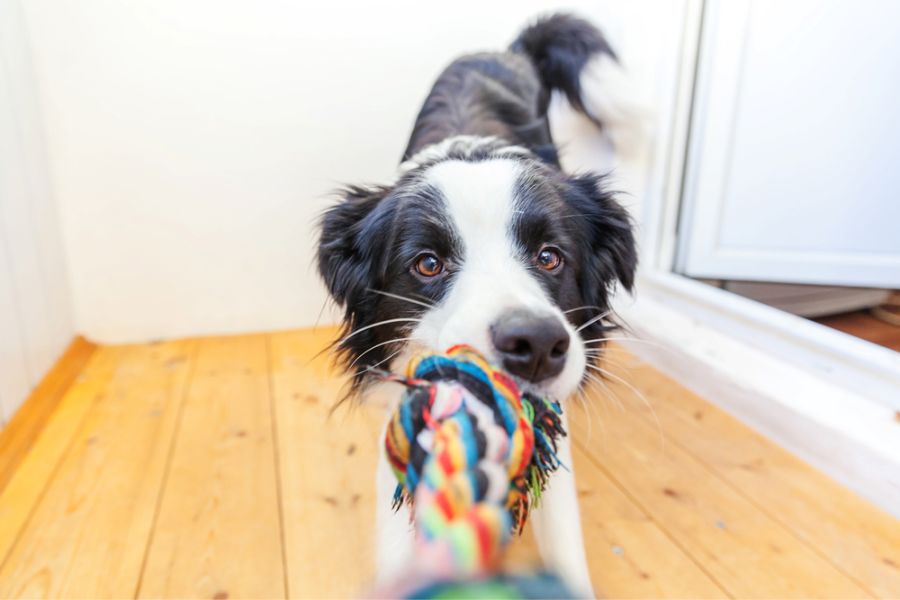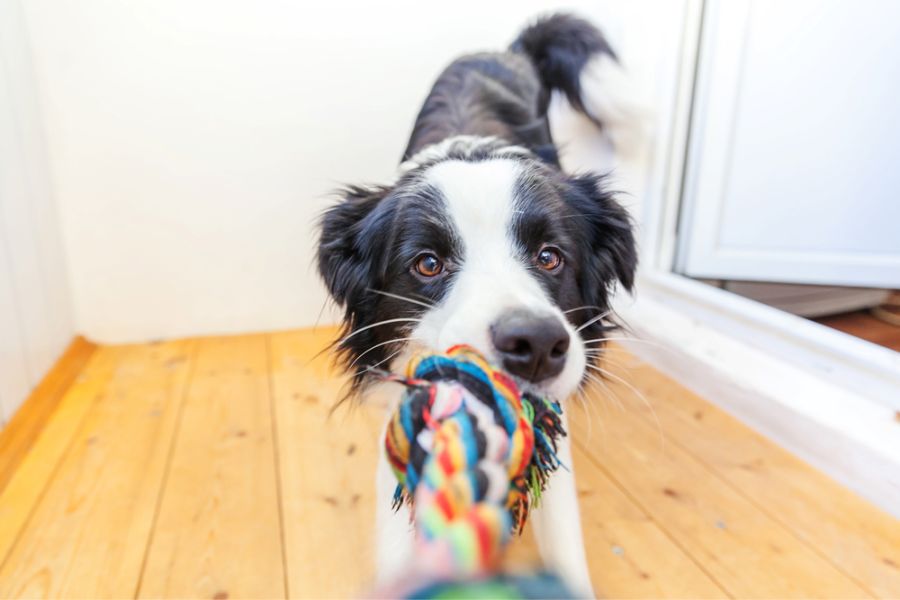 What characteristics make a dog toy great for Border Collies?
Toys that promote active play, mental stimulation, and are durable are great for Border Collies.
How often should I replace my Border Collie's toys?
It depends on how aggressively your Border Collie chews. Monitor for wear and tear and replace as needed.
Are certain materials in dog toys better for Border Collies?
Rubber and durable plush toys are typically suitable for Border Collies.
What type of toys should I avoid for my Border Collie?
Avoid toys that are too small or have removable parts that can be swallowed.
Why do Border Collies need specific types of toys?
Border Collies are high-energy, intelligent dogs who need toys that provide mental and physical stimulation.
How do I ensure the dog toy I choose is safe for my Border Collie?
Border Collies are high-energy, intelligent dogs who need toys that provide mental and physical stimulation. Check this The Right Toys for Border Collies
How can the right dog toy benefit my Border Collie's health and well-being?
Ensure toys are non-toxic, appropriately sized, and do not contain small parts your Border Collie could swallow.
Are there any recommended brands for Border Collie dog toys?
The right toy can help clean teeth, provide mental stimulation, and reduce destructive behaviors. You can consider dog brands that I have listed above and choose an appropriate toy for your dog. KONG, Outward Hound, and Chuckit! are some of the well-regarded brands.
Should I select different toys for a Border Collie puppy versus an adult dog?
Yes, puppies may need softer, smaller toys that support teething, while adults can handle tougher toys.
Can I use the same toys for Border Collies as other dog breeds?
While Border Collies can use many general dog toys, toys tailored to their specific needs can provide additional benefits.