One simple solution to enriching your poodle's life and keeping them happy is a dog toy. Not just any toys; the right toys can enhance their cognitive function, promote exercise, and even relieve anxiety. That's why finding the best dog toys for poodles is essential to keeping them entertained, happy, and out of mischief.
In this guide, we've handpicked a selection of the best dog toys specifically designed for Poodles. Our expertly curated list takes into account the durability, interactive features, and mental stimulation each toy provides.
Quick Overview
Poodle Puppy Teething Toys
As your poodle puppy grows, it will naturally go through a teething stage, just like human babies do. This process can be uncomfortable for your puppy and may result in destructive chewing behavior. Teething toys are designed to relieve this discomfort and provide a safe alternative for their chewing instincts.
Secondly, teething toys are also beneficial for your puppy's dental health. They can help clean your puppy's teeth, remove plaque, and prevent the development of dental problems in the future.
Medlladle 3 pcs Puppy Chew Toys for Teething
Brief Description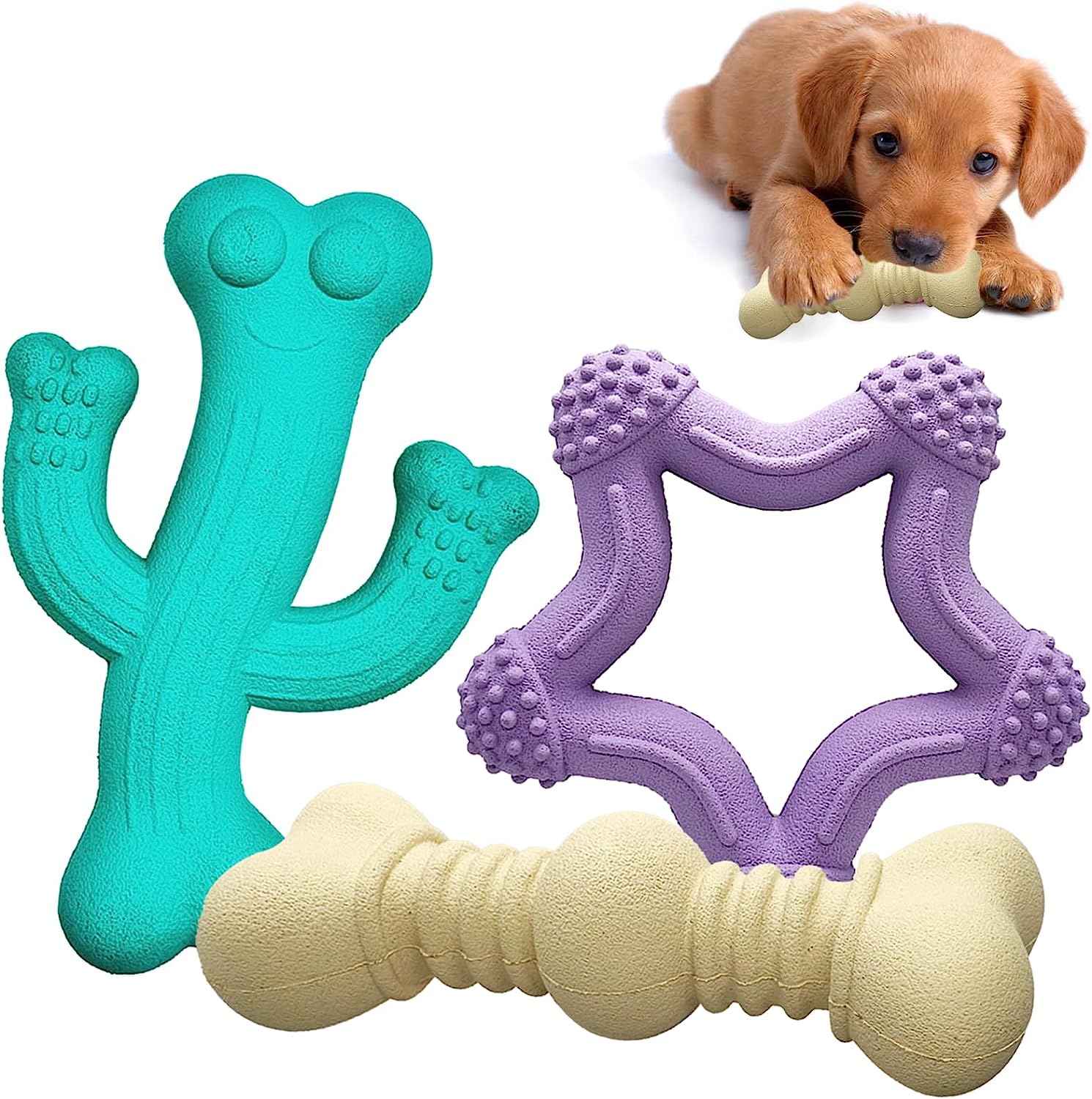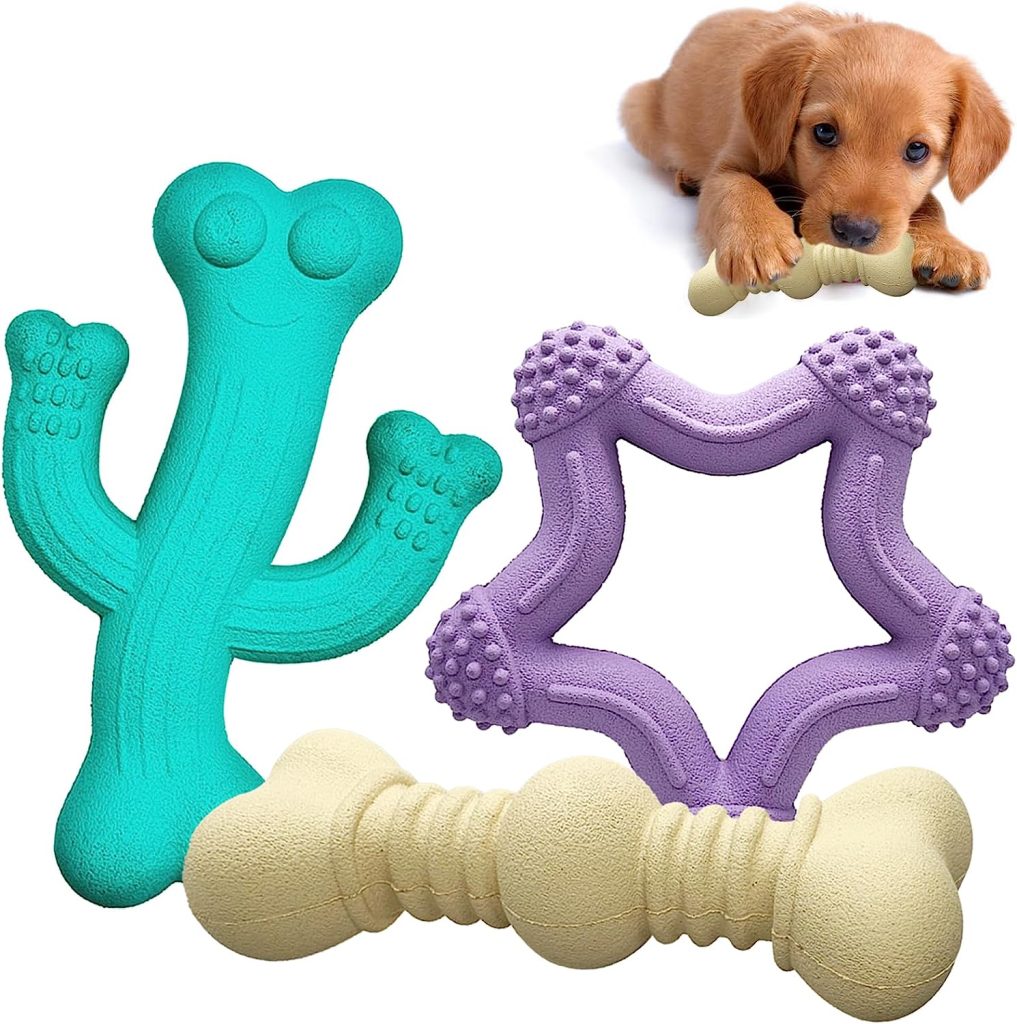 Medlladle features
Unique texture that helps soothe sore gums
Non-toxic, durable material
Promotes healthy chewing habits
Bright colors and intriguing shapes
Positive and Negative reviews from dog's owner
| | |
| --- | --- |
| Positive | Negative |
| Super tough, thick rubber | Little too big for small dogs |
| Have no issues with scratches, holes, or dents | Not durable for aggressive chewers |
| Dogs enjoy this Chew Toy | Some dogs didn't love it. |
| Satisfy dog's urge to chew | |
| Seems relatively strong and durable. | |
Quality and Functionality
Our uniquely shaped, fun, bone-like dog toys are perfect for strong chewers. These durable toys are constructed from all-natural rubber and bamboo fiber, ensuring the utmost safety, are devoid of harmful toxins or BPA, and have passed FDA tests. They're specially crafted for smaller dogs under 30 pounds and designed to outlast even the most vigorous chewing. 
Aside from being excellent for maintaining dental hygiene, these interactive toys aid in training and prevent boredom, thereby protecting your furniture from damage. Most importantly, they act as stress-relievers, ensuring your pup remains entertained and satisfied for hours with a delightful, dog-appealing scent. 
The main idea is that these dog toys are safe, durable, good for Poodles dental health, and offer hours of interactive fun.
Find out: Do Toy Poodles get bored?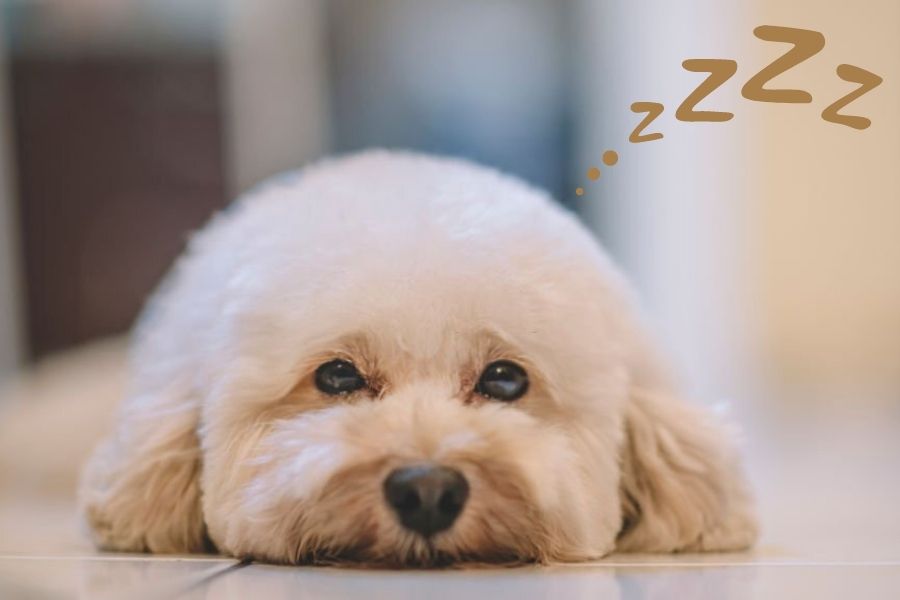 Boredom/ Home Alone Toys for Poodles
Boredom or home alone toys are crucial for two primary reasons. First, they help manage your dog's emotional health. When left alone, dogs can experience separation anxiety and boredom, which may lead to destructive behaviors.
These toys keep them entertained, reducing anxiety and stress. Second, these toys promote mental stimulation. Many of these toys are designed to challenge your dog mentally, improving their problem-solving skills and keeping their brains sharp.
Snuggle Puppy – Heartbeat Behavioral Aid Puppy Toy
Brief Description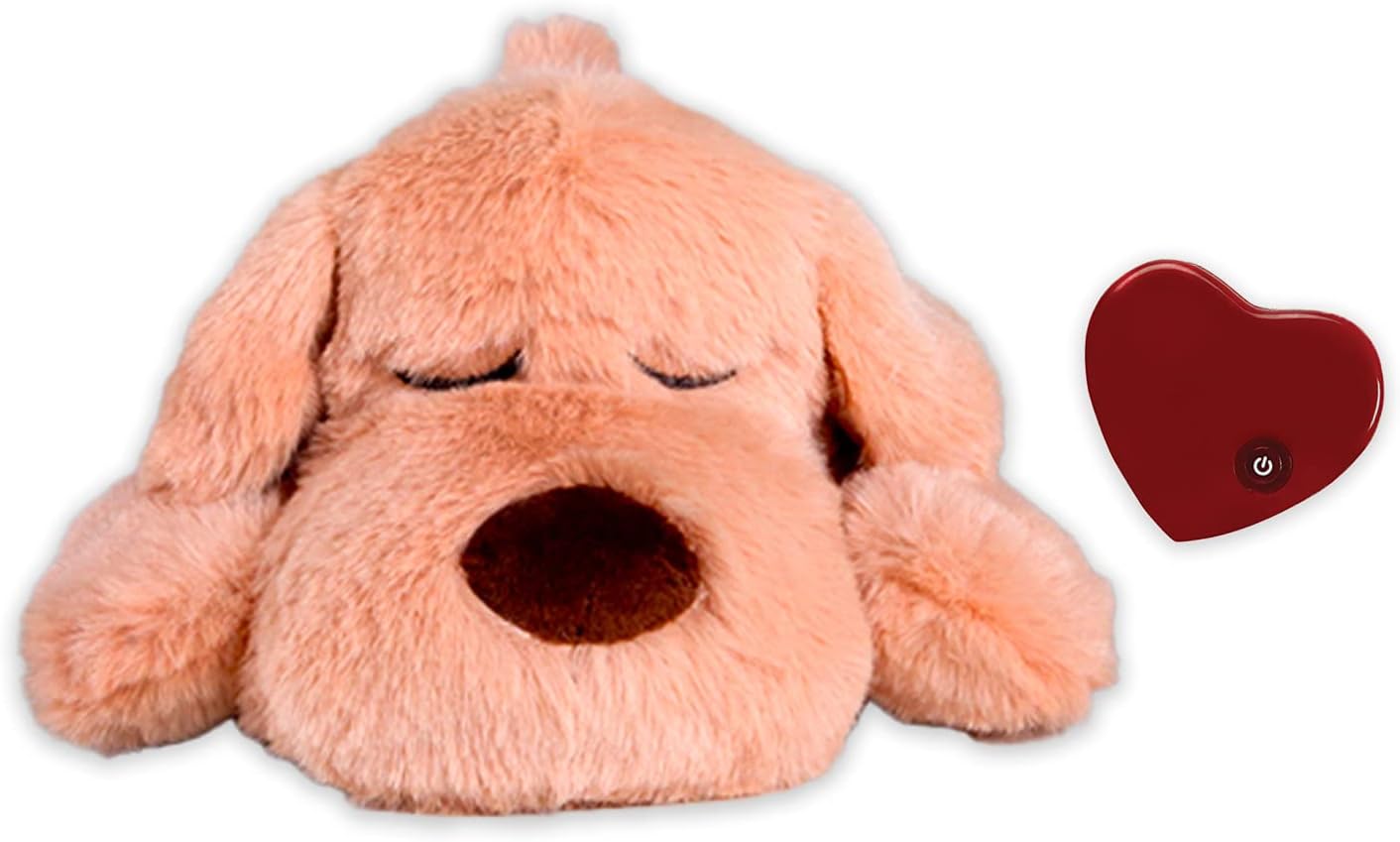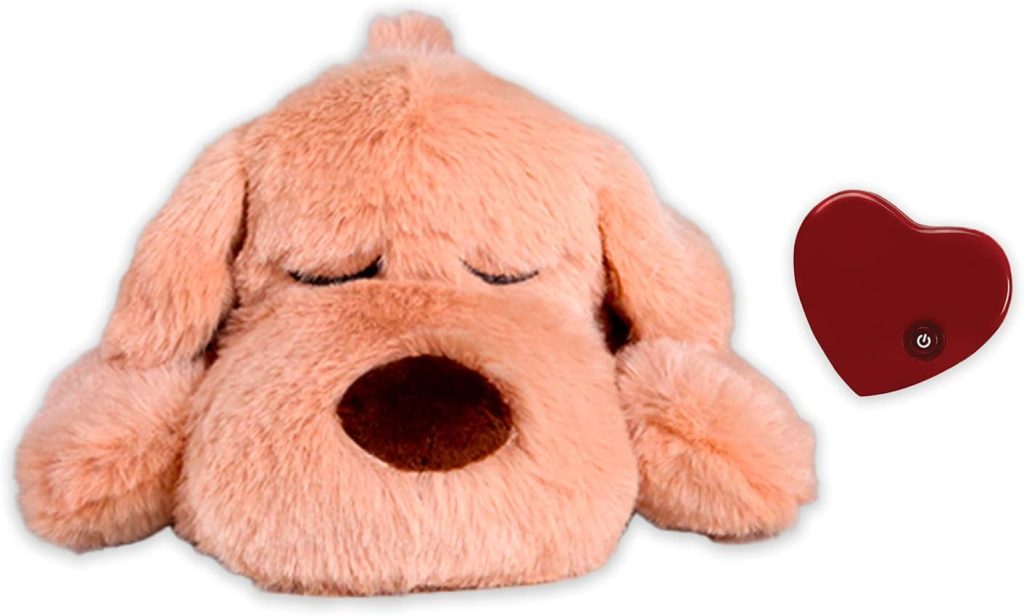 Snuggle Puppy features
It's a comforting companion for your little fur baby
Pulsating device to mimic a living heartbeat
Perfect sleep aid and and reducing separation anxiety
Help your puppy feel safe, secure, and loved
Positive and Negative reviews from dog's owner
| | |
| --- | --- |
| Positive | Negative |
| Highly recommended and effective. | Requires AAA batteries |
| Enjoys snuggling with the snuggle puppy toy. | The beating heart sound maybe too loud |
| The snuggle puppy's heartbeat feature is appreciated | |
| Rechargeable hand warmer for warmth and comfort | |
| Dogs get better sleep with this toy | |
Quality and Functionality
This dog heartbeat toy aids in crate training by minimizing undesirable behaviors like whining and barking while also serving as a comforting sleeping companion for your puppy, ensuring peaceful nights for both pet and owner. It can effectively alleviate your pet's anxiety, particularly during transitions to new environments or stress-inducing situations like fireworks and thunderstorms. 
Optional heat packs can warm the toy for additional comfort, and it's machine-washable for easy cleaning. The "real-feel" pulsing heartbeat appeals to your pet's natural instincts, offering further calming effects. 
The central idea is that this heartbeat toy significantly aids Poodles in training, eases anxiety, and provides comfort to puppies by imitating a real-life heartbeat.
Fetch Toys
Fetch toys are essential for poodles for a couple of key reasons. First, they help facilitate regular exercise, which is vital for your dog's physical health and well-being. Regular physical activity can help control your poodle's weight, improve muscle tone, and promote overall fitness.
Second, fetch toys also play a significant role in reinforcing training and enhancing the bond between you and your pet. They can be used to train commands and encourage interactive play, fostering stronger owner-dog relationships.
Chuckit Air Fetch Bumper Dog Toy, Orange
Brief Description


Chuckit features
Built for exciting games of fetch
Designed to bounce high and fly far
Made from durable, high-bounce rubber
promises endless hours of fun and exercise
Positive and Negative reviews from dog's owner
| | |
| --- | --- |
| Positive | Negative |
| Different shapes are available | A bit heavy for small/ medium dogs |
| Surprisingly sturdy | Not for aggressive chewers |
| Light and airy | |
| The color is vibrant | |
| Ease of use and flies great | |
Quality and Functionality
The Chuckit! Air Fetch Bumper Toy is an innovative, breathable fetch toy that enhances your dog's lung airflow while engaged in play, perfect for all breeds but especially beneficial for fetch-obsessed dogs. 
Equipped with two durable nylon straps, the toy can be utilized for a fun tug game, and its gentle rubber composition is safe for your dog's mouth and suitable for both land and water play. As part of Chuckit's wide-ranging collection of indoor and outdoor toys, the Air Bumper is designed to foster the human-animal bond and keep your dogs and puppies engaged. 
This toy offers Poodles enhanced, fun-filled, interactive play while considering the dog's health and bonding with the owner.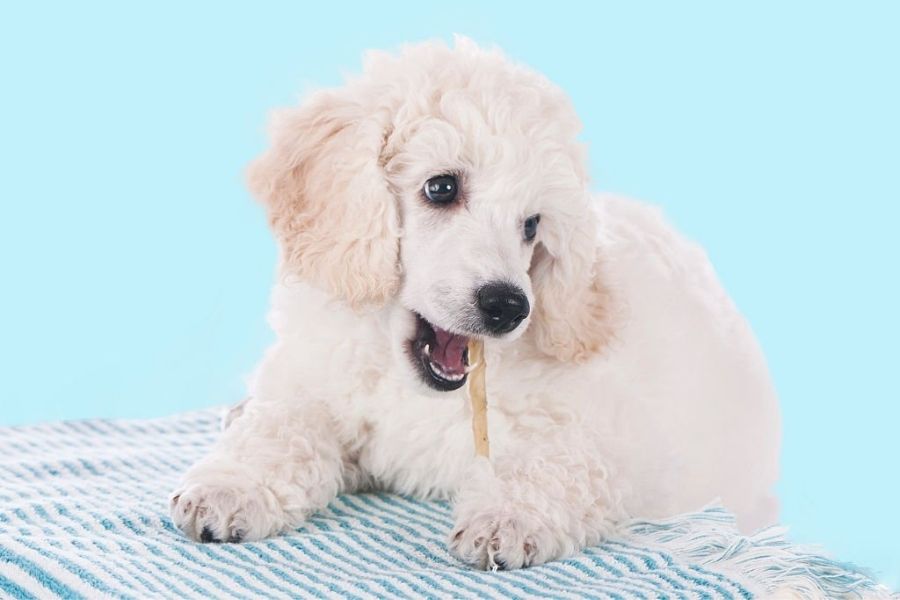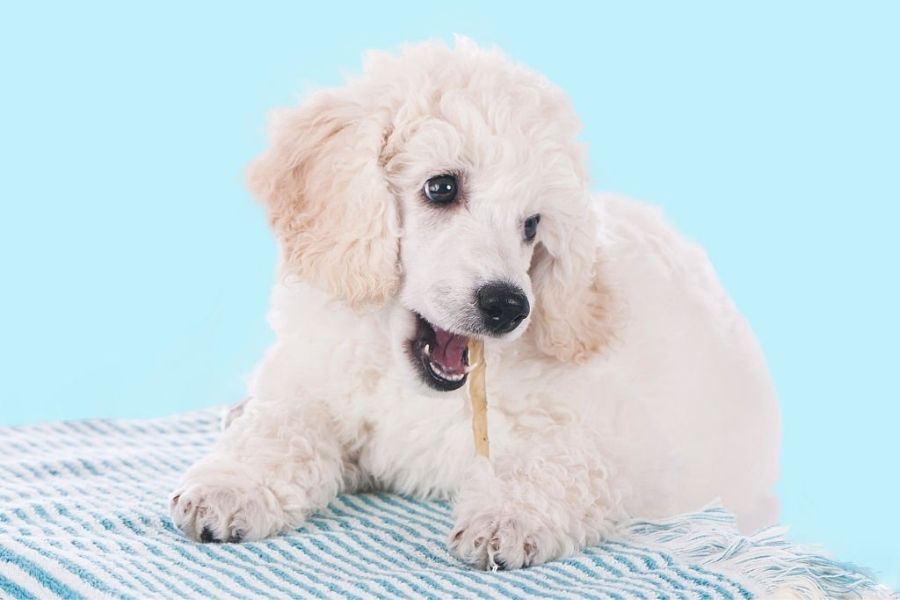 Stop Chewing Toys
Poodles, like all dogs, have an inherent need to chew. Stop chewing toys serve as a healthy and appropriate outlet for this instinct, diverting attention from chewing on furniture or personal belongings.
Additionally, these toys help improve dental health. Chewing action aids in reducing plaque and tartar build-up, leading to better oral hygiene and reducing the risk of gum disease.
Benebone Tripe Bone Durable Dog Chew Toy
Brief Description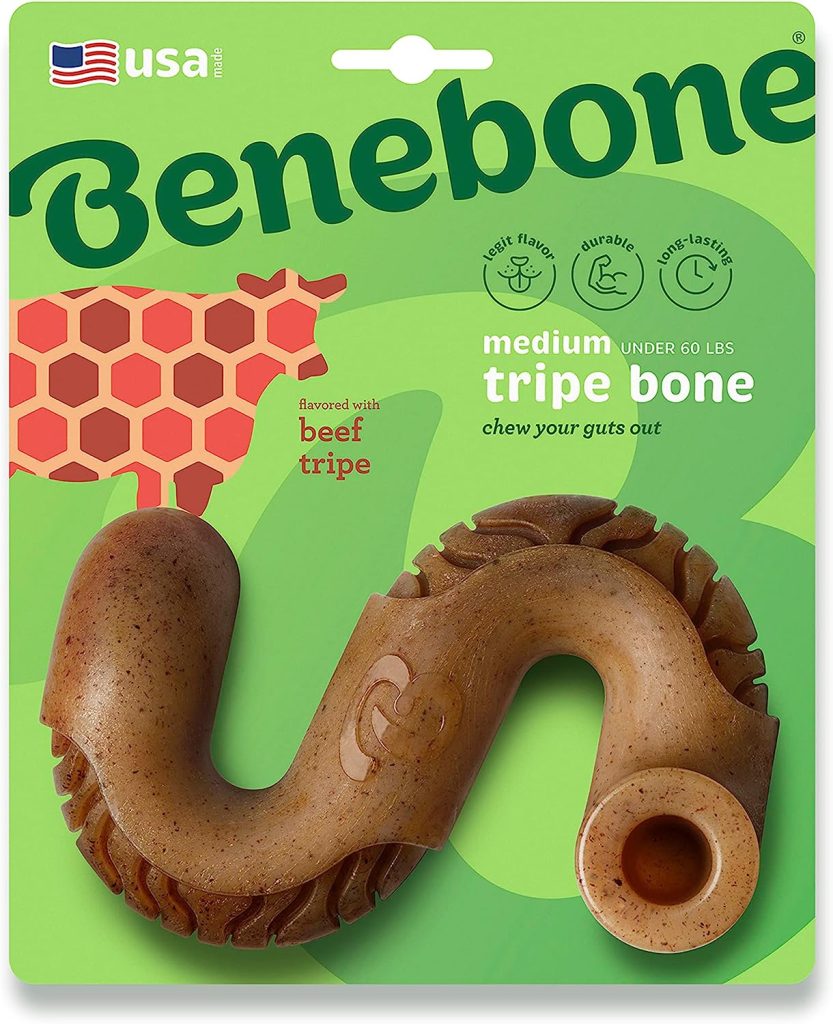 Benebone features
Crafted with real, 100% food-grade tripe flavor
Satisfy their instinctual need to chew
Scraping away plaque and tartar
Enhanced chewing pleasure
Positive and Negative reviews from dog's owner
| | |
| --- | --- |
| Positive | Negative |
| Great for power chewers | The shape of this one seems harder for her to hold on to |
| Durable and tasty | Becomes sharp after a time of usage |
| Perfect for long term chew | |
| The best way to keep tartar and plaque off dog's teeth | |
| Super long-lasting | |
Quality and Functionality
Benebones are durably constructed chew toys, designed to withstand the toughest chewers and provide weeks of engagement. They're thoughtfully designed with a curved, squiggly shape for an easy, paw-friendly grip, acknowledging that dogs don't have thumbs. 
These bones are flavored with 100% real beef tripe, offering an irresistible taste to your pup while being odor-free for your comfort. For added enjoyment, Benebones feature pockets on the ends that can be filled with delightful treats like peanut butter or cheese. 
These are long-lasting, easy-to-grip, flavor-rich chew toys that offer extra treat pockets for an enhanced Poodle's chewing experience.
Read more : How do I keep my Poodles entertained?
Play Together Toys
Playing together with toys fosters a deep bond between dog and owner. They enable interactive play, which not only provides physical exercise but also emotional connection, improving your poodle's happiness and well-being.
Another key reason for these toys is training and socialization. They offer an excellent opportunity to instill obedience commands and social skills, contributing to your dog's overall behavior and demeanor.
Pubialo Squeaky Dog Toys Octopus
Brief Description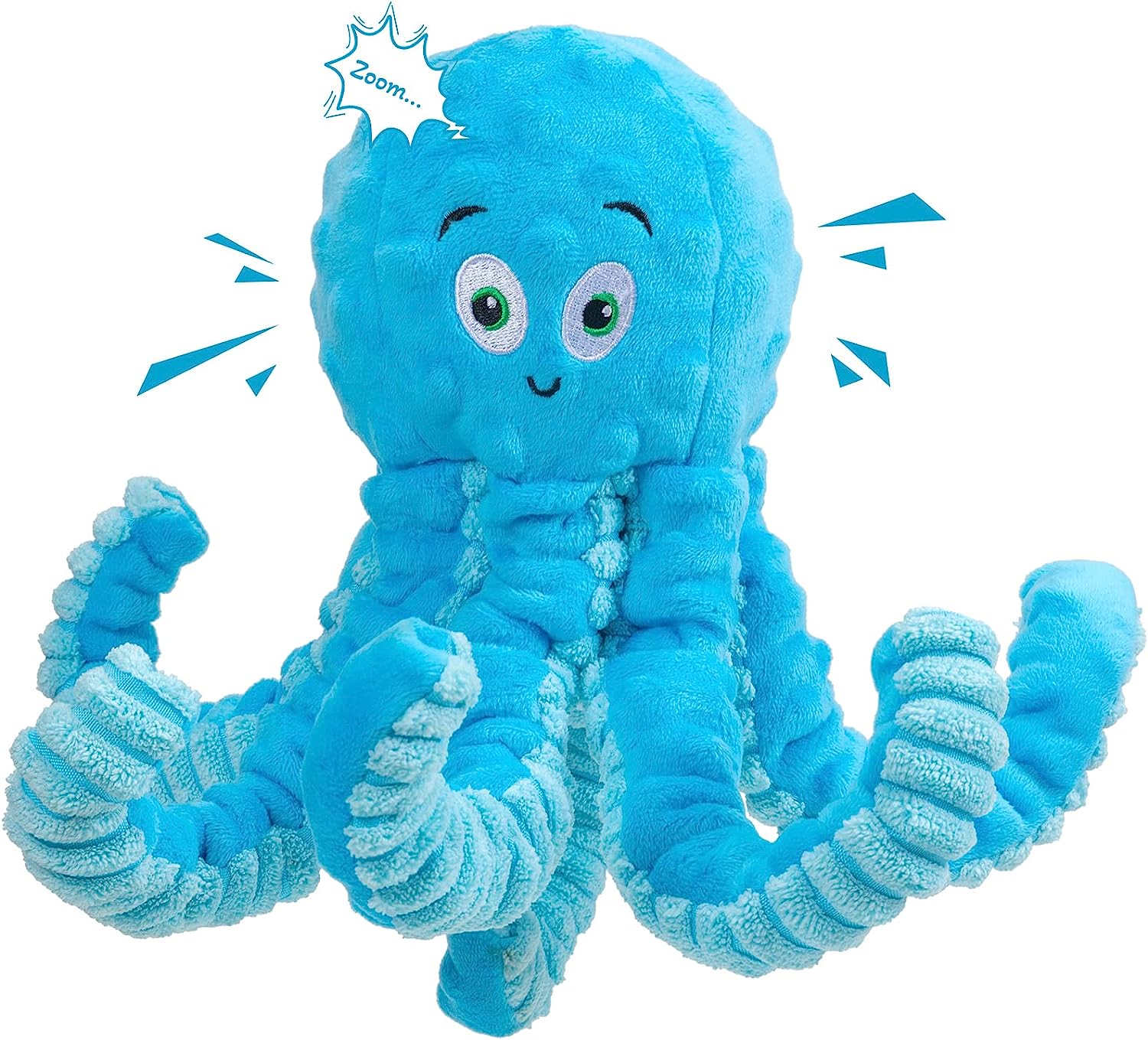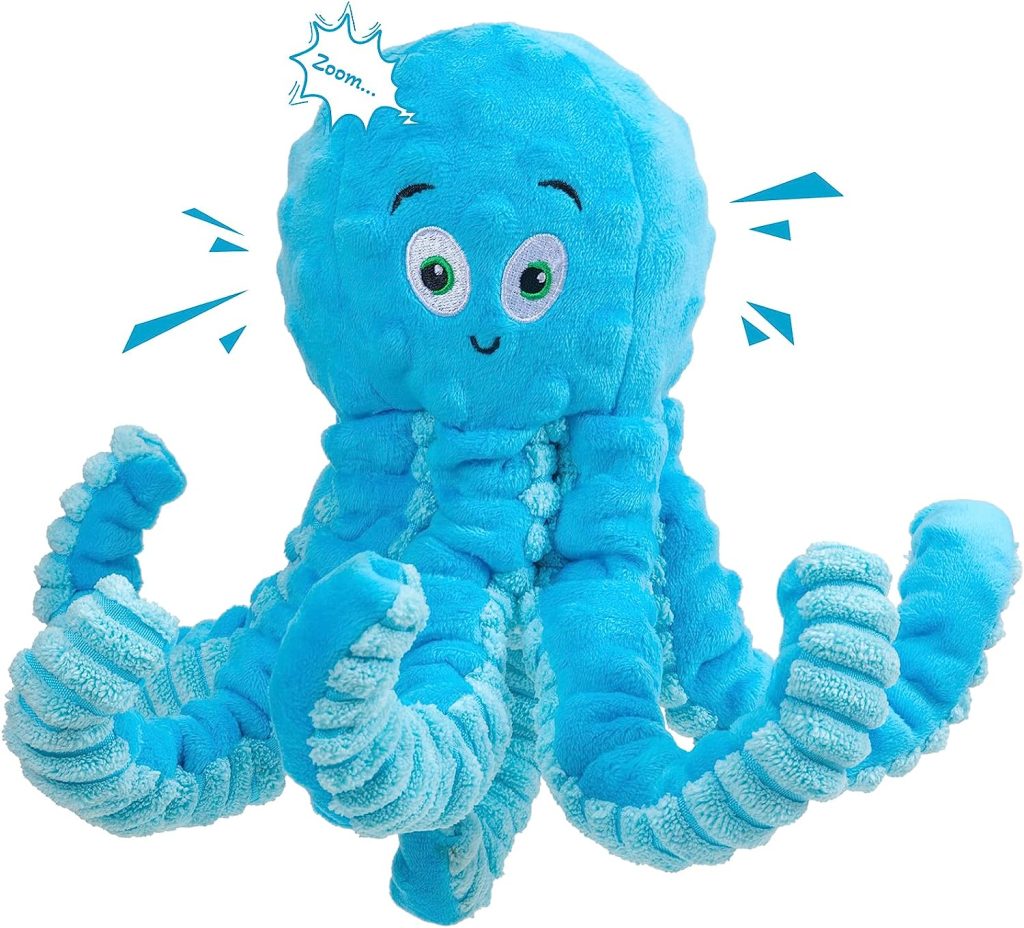 Pubialo features
Multi-purpose toy: squeaky toy and a tug of war rope
Made with durable, pet-safe materials
Pullable tentacles for intense tugging sessions
Cute and funny appearance
Positive and Negative reviews from dog's owner
| | |
| --- | --- |
| Positive | Negative |
| Reduce plaque and tartar, promote healthy teeth, | Not recommend extreme strong-bite dogs |
| Able to clean in the washing machine after playing. | 1 squeaker in a hard to reach spot. |
| The tentacles are a little stretchy so the dogs really loved them | |
| Amazingly for daily tug-of-war battles | |
| Nice looking, and my puppy loves it. | |
Quality and Functionality
Our ultra-soft Octopus dog squeaky toy is crafted from a cuddly natural cotton texture that's dog-friendly . Also contains an internal waterproof layer to prevent saliva from seeping into the stuffing. It boasts a unique octopus-inspired design with elastic legs for exciting tug of war games and a built-in squeaker that sounds when bitten, providing interactive play and reducing boredom and separation anxiety. 
This toy's unique technology entails a durable liner added to the plush material, and double-stitched, reinforced seams ensure longevity. It also serves as a comforting tool for your dog, relieving depression, boredom, and anxiety while preventing furniture damage. 
The plush Octopus dog squeaky toy is a multi-functional, durable, and beneficial addition to your Poodle's playtime routine.
Poodle Treat Toys
Treat toys are a great investment for Poodle owners. First, they offer mental stimulation. Many treat toys are puzzle-like, requiring dogs to think and problem-solve to access the treats inside. This keeps your poodle engaged and mentally sharp.
Second, these toys can be used for slow feeding. For dogs that eat too quickly, treat toys can help pace their eating, improving digestion and reducing the risk of gastric problems.
PetSafe Busy Buddy Nobbly Nubbly Treat Holding Dog Toy
Brief Description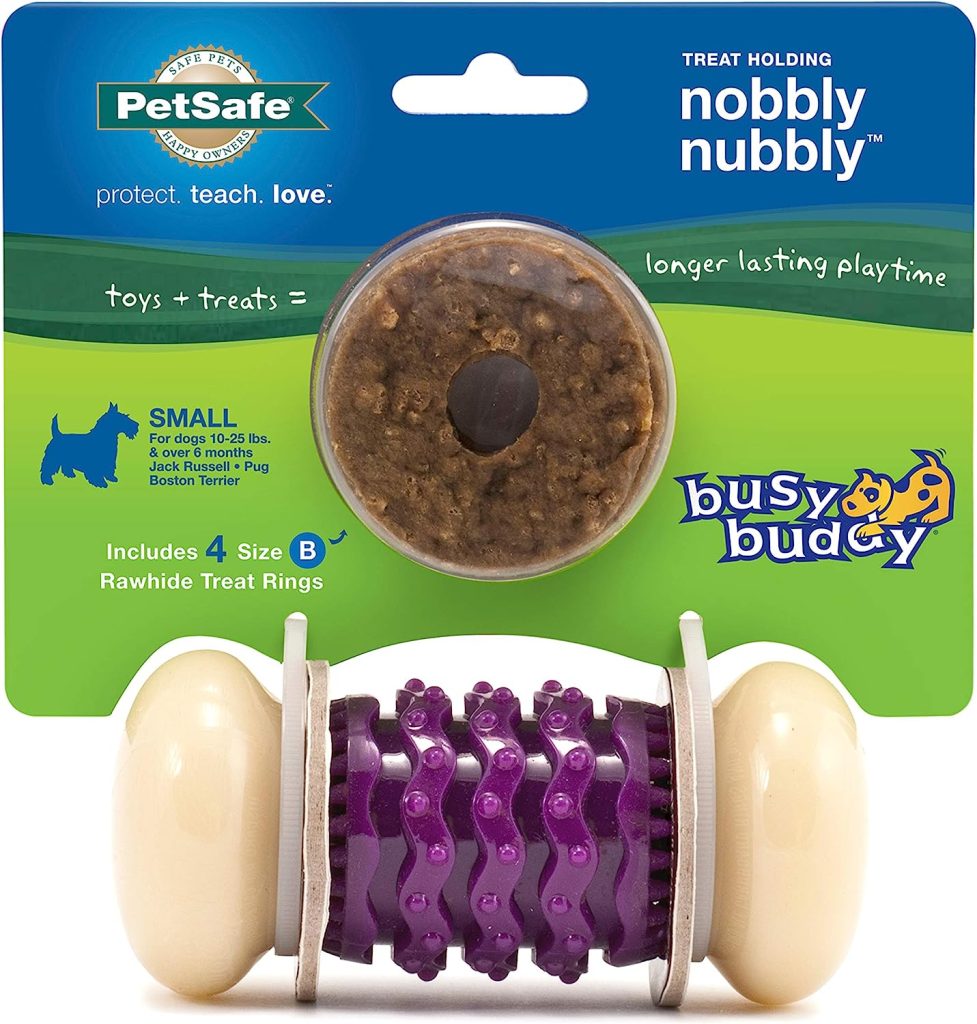 PetSafe features
Designed to hold your dog's favorite treats
Enhances your dog's mental stimulation
Built to withstand even the most vigorous chewers
Extending playtime
Positive and Negative reviews from dog's owner
| | |
| --- | --- |
| Positive | Negative |
| Cleans clean teeth good | Not durable for strong chewer |
| Long lasting, Good price | Wasn't really a challenge for my dogs |
| Great product for teeth and time consumption. | Unscrewed the end/knob and chewed up the threads. |
| Alternatives to the treat rings | |
| Dishwasher safe | |
Quality and Functionality
Made from robust nylon and vanilla-scented rubber, this treat-holding toy can withstand even the strongest chewers. It offers added engagement by allowing you to insert Busy Buddy rawhide treat rings into the end holders or smear peanut butter on the middle grooves. 
Furthermore, this toy is easy to clean, being top-shelf dishwasher safe. Besides providing long-lasting play, it's an interactive toy that can help alleviate your dog's anxiety, making it suitable for dogs over six months old. 
This is a durable, easy-to-clean, treat-holding toy that also provides mental stimulation and helps reduce anxiety in poodles.