Toys are important for a pet's life. Toys help dogs learn, play, and stay busy. These items are truly saviors when we don't have much time for them. A popular brand of dog toy that every dog parent might know is the Kong toy.
Kong toys are known for being durable and entertaining our dogs for a long time. As with any other product made for dogs, safety comes first. So are Kong toys non-toxic and safe for our fur friends?
Through this piece, we hope to shed light on the safety measures that Kong takes and clarify why their toys aren't dangerous.
Overview of Kong Toys
Let's look at where Kong toys came from and what kinds of toys they make. The good name and respect they've earned over time are a big sign that you can trust them as toys.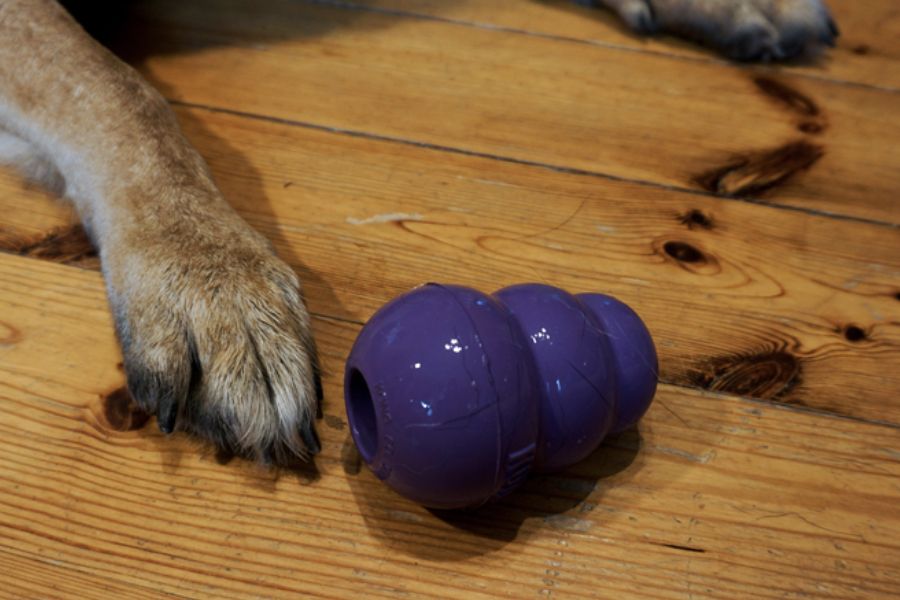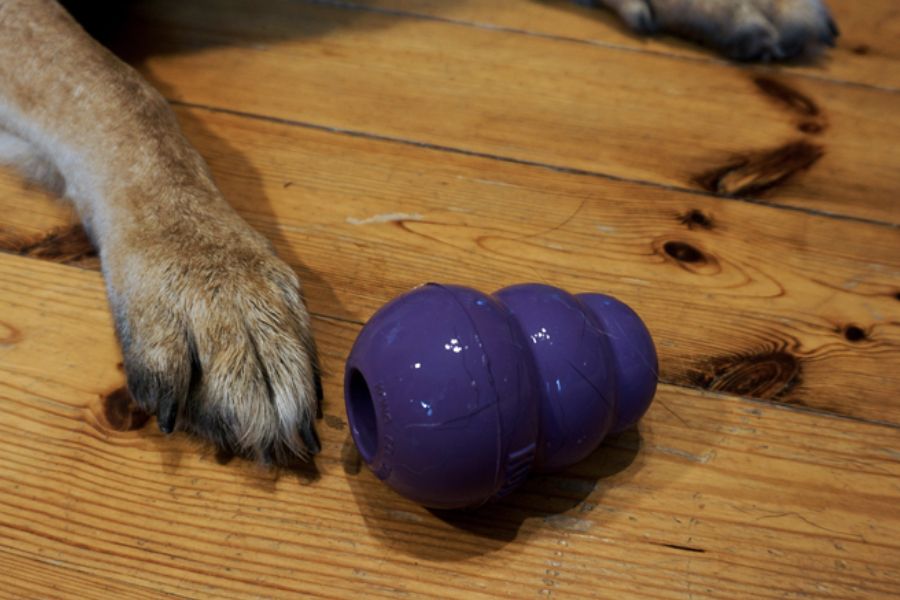 Kong toys history
A dog trainer named Joe Markham came up with the idea for Kong toys in the late 1970s. His German Shepherd, Fritz, loved to chew on anything it could find. Joe Markham created the first durable Kong toy from a piece of Volkswagen bus rubber and then filled it with peanut butter. This combination had been Fritz's favorite ever since. Until now, Kong toys have gained immense popularity among pet owners worldwide.
Materials used in Kong toys
Kong toys are crafted using high-quality and non-toxic materials specifically chosen to ensure durability and safety for pets. The primary material used in Kong toys is natural rubber, known for its strength and resilience. This rubber is designed to withstand the rigorous chewing and play habits of dogs and other pets.
Read more: The best material for dog chew toys
Kong toys common types and designs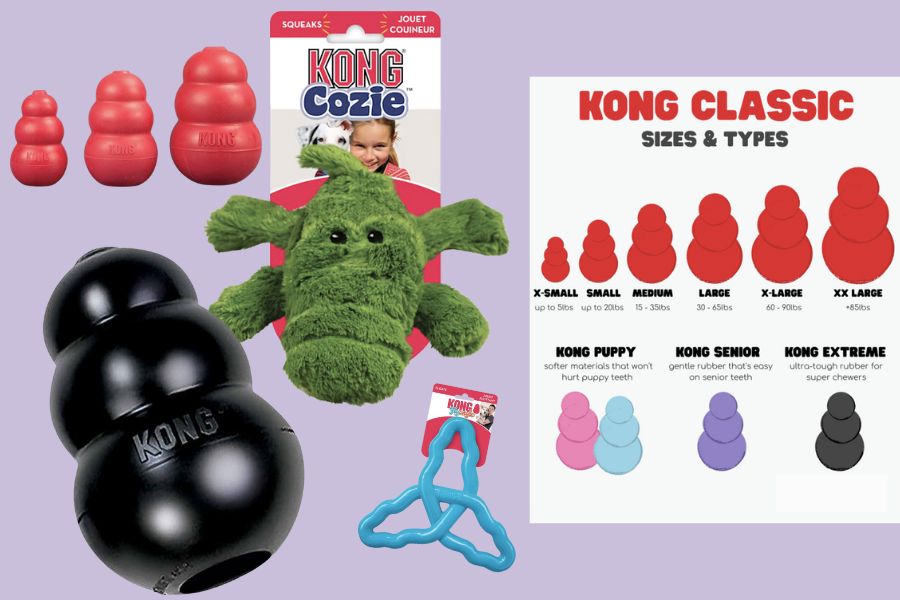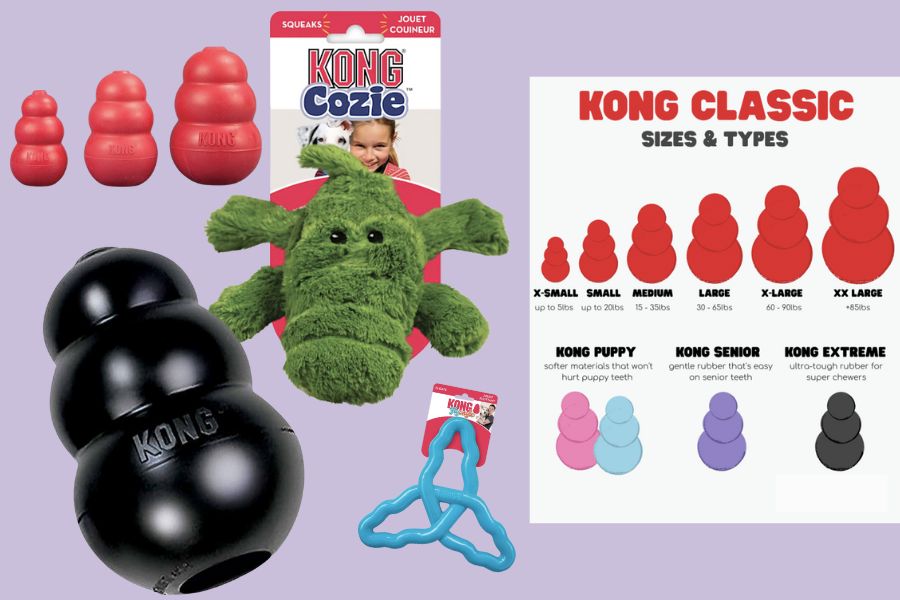 Kong toys come in various sizes, shapes, and colors. Designed to suit different preferences and play styles: 
Classic Kong: This is the original and most well-known Kong toy, shaped like a snowman with a hollow center. This design is for stuffing with treats.
Kong Extreme: As the name suggests, this toy is built for extreme chewers thanks to the ultra-durable rubber compound.
Kong Wobbler: The Kong Wobbler is a treat-dispensing toy that wobbles and rolls unpredictably. This Kong entices dogs to engage and interact, trying to get the food out.
Kong Cozies: Cozies are plush toy options that Kong offers. They are figures with soft and cuddly designs that are made for gentle chewers.
Kong Flyer: Designed for interactive outdoor play, the Kong Flyer is a durable and flexible disc-shaped toy. It is made to engage in fetch games with dogs.
Are Kong Toys Non-Toxic?
No, Kong toys are safe for our dogs to play with.
The Kong Company places a premium on the safety and well-being of pets. The company uses natural rubber as the material for the majority of their products.
Natural rubber isn't dangerous for dogs by itself, unless toxic chemicals are added to it during the making process.
Natural rubber comes from the latex sap of rubber trees. The milky latex sap is carefully taken from the trees and put in cups or other containers.
Once the rubber has been cleaned and is free of any impurities, it will go through a process called compounding. At this stage, different chemicals, such as vulcanizing agents, antioxidants, and pigments, can be added. These additives make the rubber last longer, have a better color, and perform better.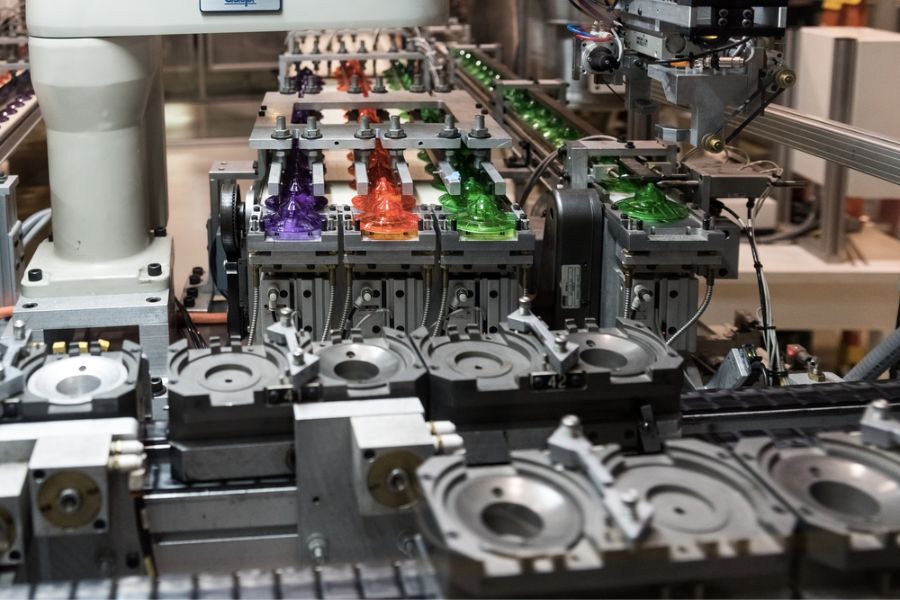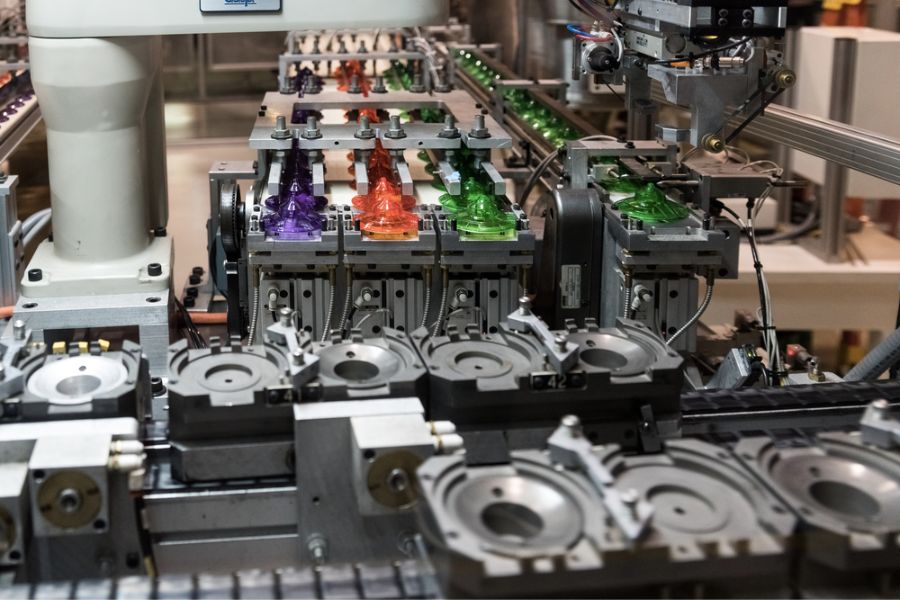 Kong only uses safe additives in the amounts that are allowed, and they are very careful not to use harmful substances like lead and phthalates when making additives or coats.
The procedure by which Kong toys are made follows strict standards and regulations that are applied just to pet toys. These standards include guidelines set by parties like the Consumer Product Safety Commission (CPSC) and foreign standards like ASTM F963 for toy safety.
Following this, Kong does thorough quality control checks that include inspecting each toy for flaws, correct construction, and safe components.
These efforts help build trust among animal lovers by letting them know that Kong toys meet the highest safety standards in the industry.
Wrap It Up
Kong toys are one of the best toys for dogs, and every dog should have one. They'll make sure that they meet the needs of any dog. So now you can be sure that your dog will have a good time playing with them while staying safe.