Labradoodles thrive on mental stimulation and are known for their intelligence, energy, and friendly nature. According to recent statistics, Labradoodles have gained a lot of popularity over the years. Therefore, caring owners require toys for labradoodles that cater to their specific needs.
In this guide, we will explore a wide range of toys that have been carefully selected to suit Labradoodles' characteristics and preferences. Let's ensure your Labradoodle stays happy, entertained, and wagging their tail with joy as they engage with their new favorite toys!
Common Concern About Labradoodles
How do I keep my Labradoodle entertained?
Fun activities and quality time spent with Labradoodles promote feelings of love, security, and happiness, strengthening the bond between dog and owner. It also helps prevent boredom-related issues such as excessive barking and chewing. 
Read this blog about engaging in training sessions, relaxation time, outdoor adventures, and training and exercise with toys.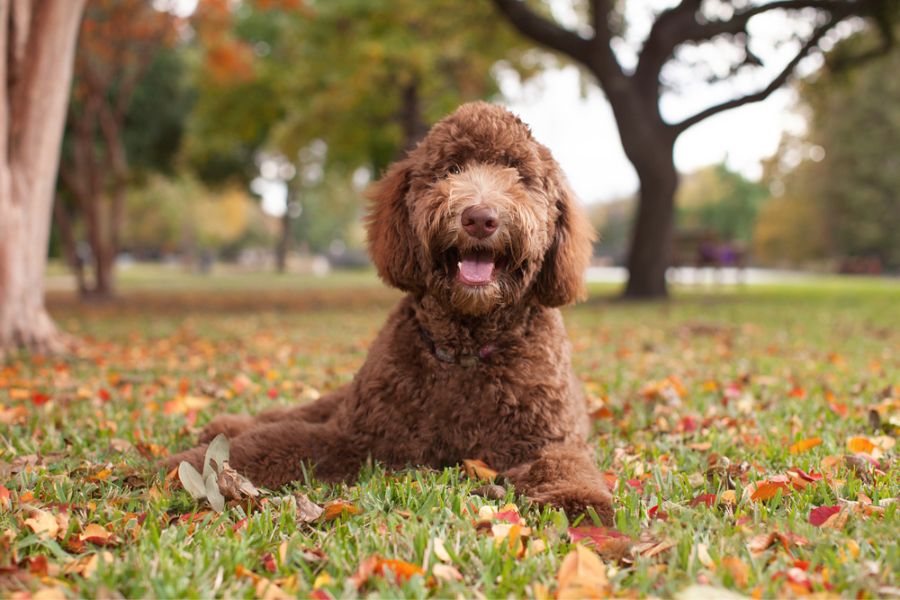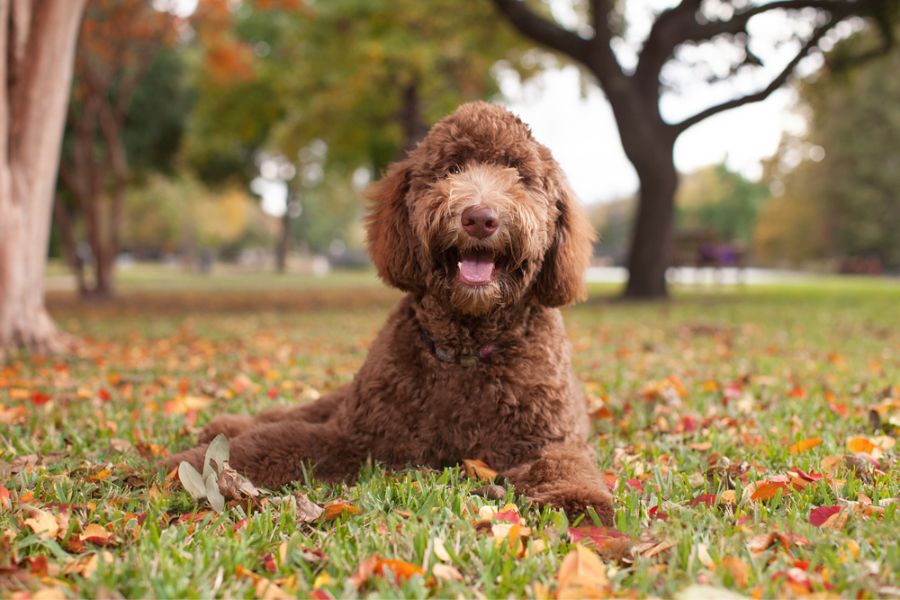 Are Labradoodles super chewers?
The genetic traits passed down from their Labrador Retriever and Poodle parent breeds may have an impact on Labradoodles' natural tendency to chew. Moreover, excessive chewing can lead to choking hazards, dental issues, behavioral problems, and exposure to toxic substances.
In this Article, we discuss dietary considerations and training techniques to ensure the safety and well-being of their furry companions. 
Recommended Products By Different Characteristics
Tug-of-War Toys
Tug-of-war toys can help them burn off excess energy and provide a fun and engaging way to interact with their owners or other dogs. These types of toys can be greatly beneficial for Labradoodles due to their playful nature and high energy levels.
These toys can also assist in building strength in your Labradoodle's jaw and help maintain their oral health. Additionally, the game of tug-of-war can teach important lessons about impulse control and reinforce positive behaviors when played properly.
1. West Paw Zogoflex Bumi Dog Tug Toy
Brief Description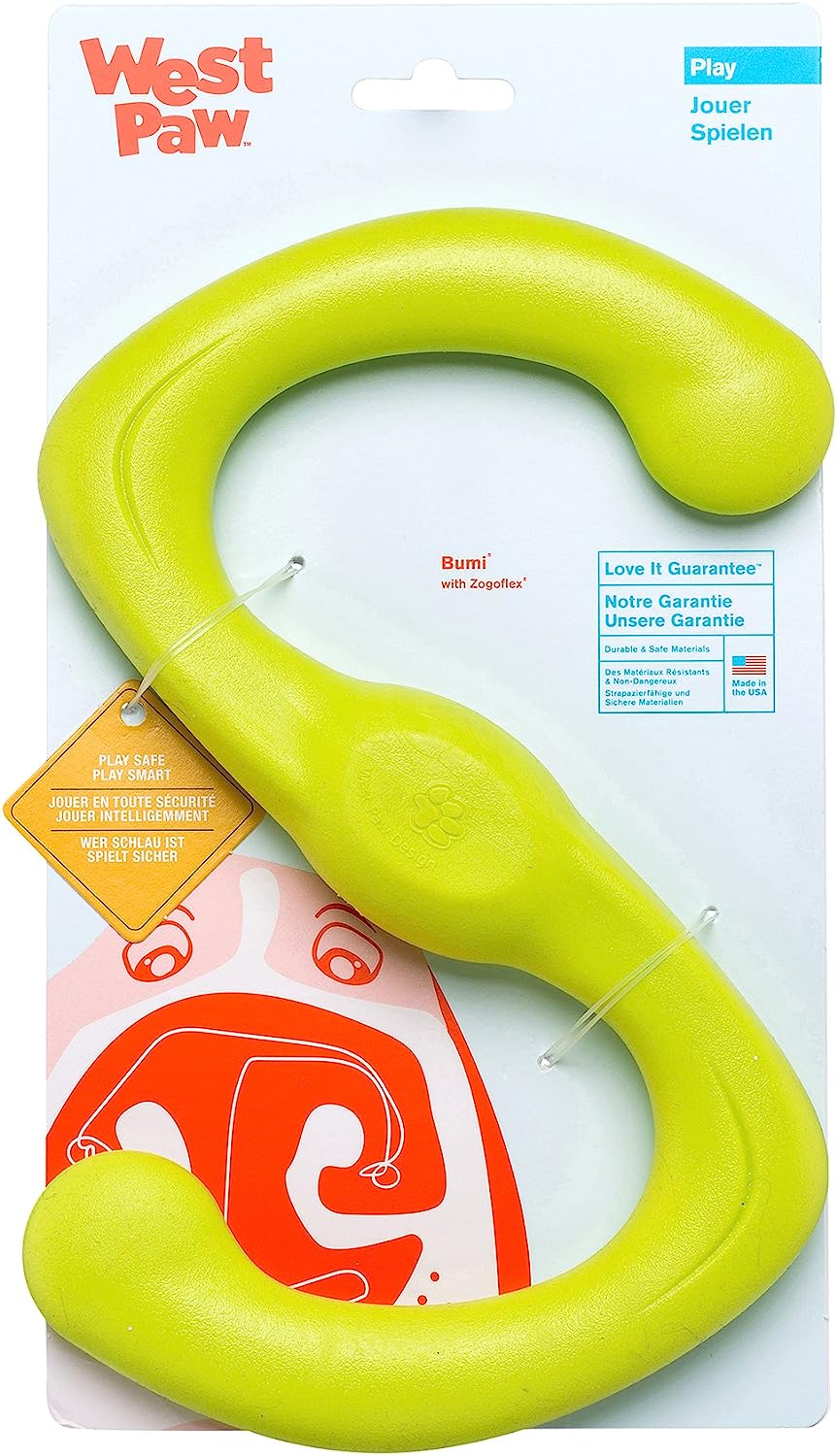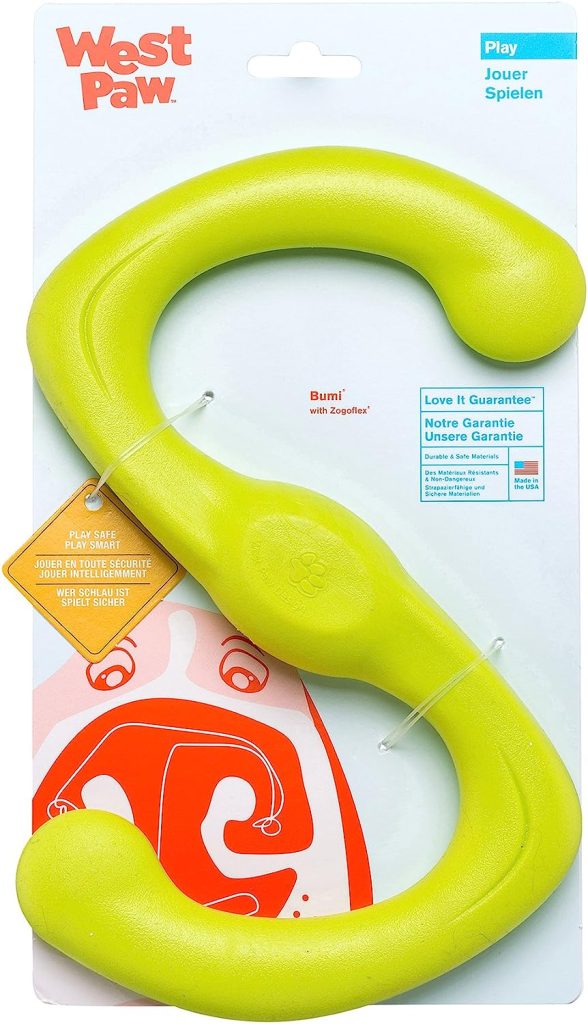 West Paw features
Features an S-shaped design
Perfect for interactive tug-o-war sessions
Floatable, making it an excellent choice for water play
Strengthens your bond with your dog
Positive and Negative Reviews from Dog's Owner
| | |
| --- | --- |
| Positive | Negative |
| Durable and long lasting | Too flimsy for tug-o-war |
| Great for dogs who love to chew | Tough, but not enough for super chewer |
| A Good interactive toy to play fetch and tug | |
| Ultra flexible and stretchy | |
| Customer service from West Paw is just 100% "paw-esome" | |
Quality and Functionality
Introducing the West Paw Zogoflex Bumi Dog Tug Toy, a durable and lightweight toy designed for gentle chewers. This stretchable tug toy offers endless fun as it doubles in length and motivates dogs to run, catch, and chew. Its unique S-shape design makes it perfect for interactive play, allowing you to engage with your canine companion during exercise.
The best part? This toy is dishwasher safe, making it easy to clean after those exciting chase and fetch games. Made in the USA and recyclable, it's a non-toxic and eco-friendly option. Plus, with West Paw's Love It Guarantee against damage, you can provide your furry friend with a toy they'll love.
Dental Health Toys
Dental health toys are specifically designed to help maintain and promote good oral health in dogs, which is particularly important for Labradoodles as they can be prone to dental issues. These toys are usually made from durable materials that can withstand constant chewing.
While your Labradoodle is enjoying their chew toy, the materials will help to clean their teeth, reduce tartar buildup, and stimulate gum health. This can help prevent tooth decay and gum disease, making these toys a fantastic addition to your pet's dental care routine.
2. Petizer Tough Toothbrush Dog Chew Toy
Brief Description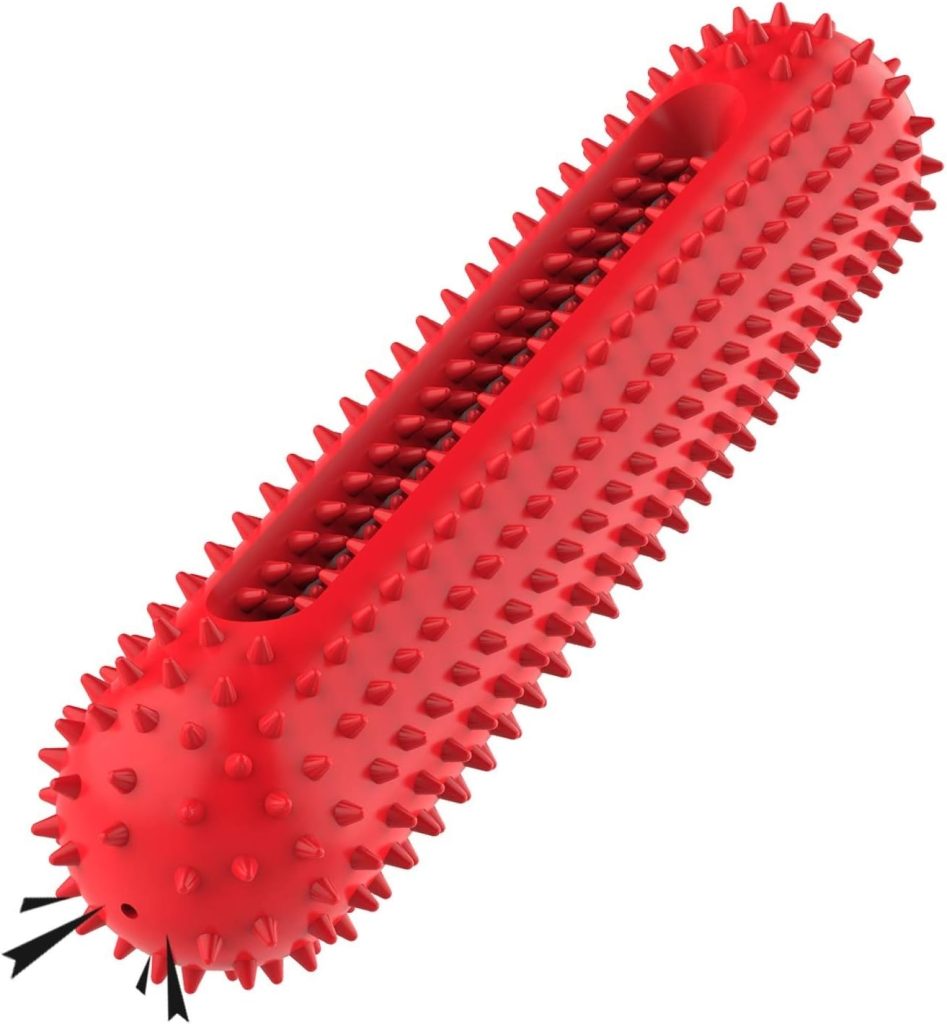 Petizer features
Clean your dog's teeth and massage their gums
Made from durable, non-toxic rubber
Embedded small toothpaste tube
Fun and rewarding play session
Positive and Negative Reviews from Dog's Owner
| | |
| --- | --- |
| Positive | Negative |
| It's durable, and it squeaks. | Not too easy for dogs to get treats out of |
| Indestructible and sturdy | Maybe too big for small dogs |
| Awesome, great shape, texture | A Squeaker is not durable |
| Cleans her teeth | |
| Able to stuff treats | |
Quality and Functionality
The Petizer Tough Toothbrush Dog Chew Toy, my go-to choice for a safe and durable toy. Made from natural rubber sourced from Southeast Asia, it guarantees non-toxic and eco-friendly playtime. With its built-in squeaker, it encourages my dog's natural hunt and play behaviors, keeping him engaged for longer.
The toy's aligned bristles and toothpaste groove also make teeth cleaning a breeze while my furry friend chews away. Designed to withstand the toughest chewers, this toy is exceptionally durable. Plus, its irresistible beef flavor satisfies my dog's natural chewing instincts.
Mental Stimulation Toys
Labradoodles are highly intelligent breeds that thrive when their minds are kept active. Mental stimulation toys, such as puzzle toys or treat-dispensing toys, challenge your pet's problem-solving skills and can keep them entertained for hours.
These toys can help reduce boredom and destructive behaviors that may arise from a lack of mental stimulation. They also promote independent play, which is essential when your Labradoodle needs to be alone.
3. HOUNDGAMES Dog Treat Dispensing Puzzle Toys
Brief Description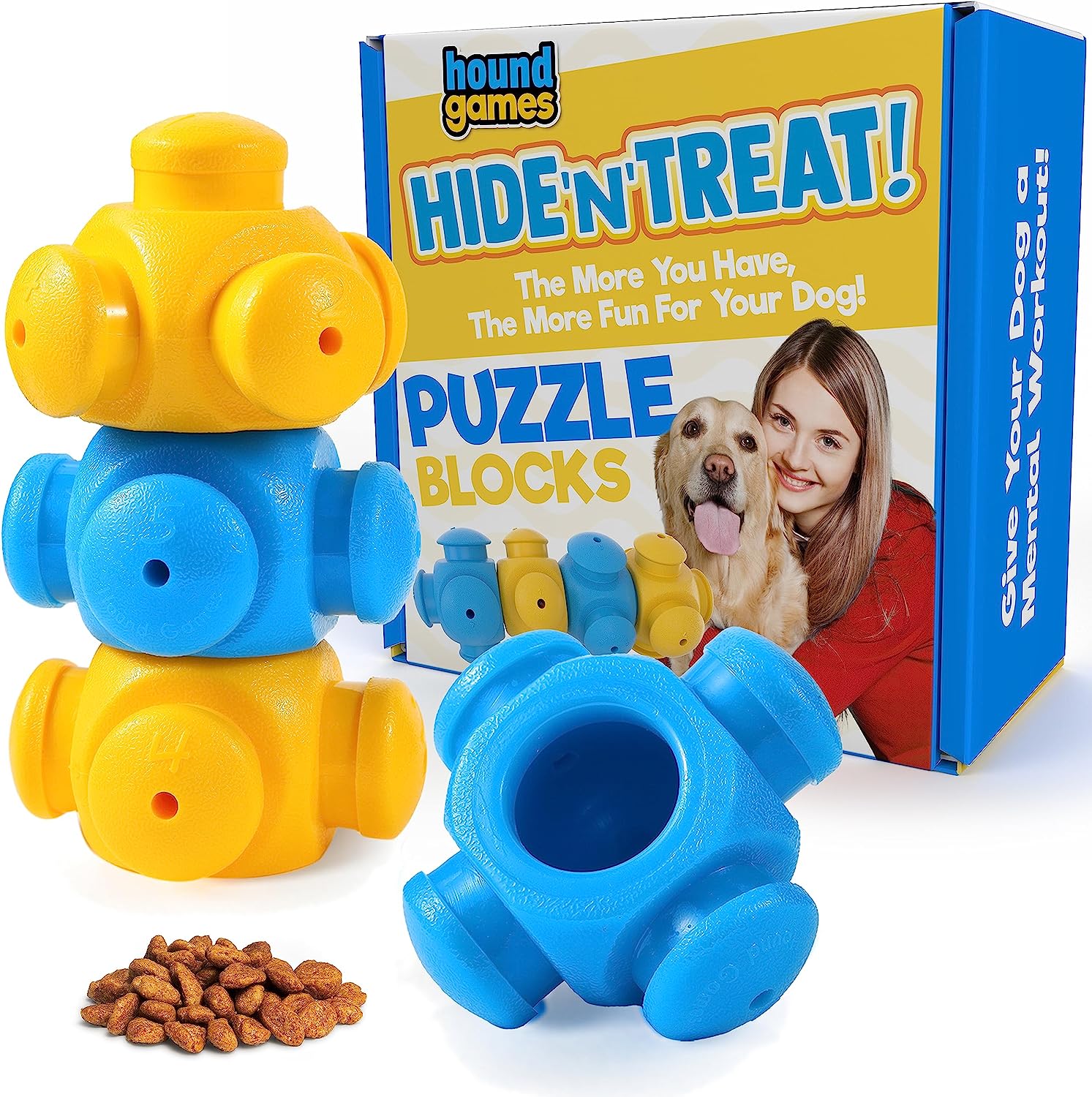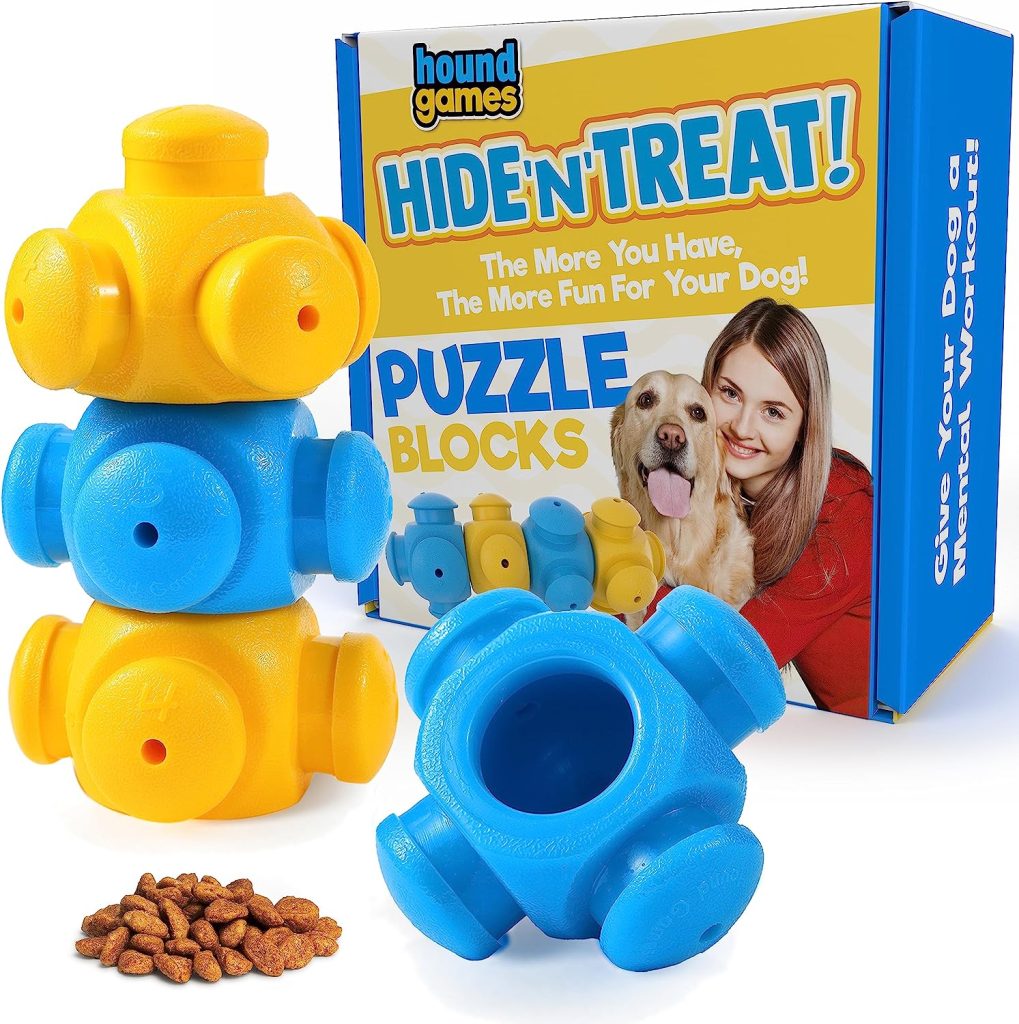 HOUNDGAMES features
Keep your pup mentally stimulated and entertained
Improves your dog's cognitive abilities
Made from durable, pet-safe materials
Easy to clean
Positive and Negative Reviews from Dog's Owner
| | |
| --- | --- |
| Positive | Negative |
| Engaging adjustable puzzle | Not for aggressive chewers |
| Great toy for a smart dog. | Amazing at first, but too loose after a while |
| Great tool to entertain and keep him busy | |
| Hours of entertainment | |
| Amazing innovation for mental stimulation | |
Quality and Functionality
Houndgames Dog Treat Dispensing Puzzle Toys are my ultimate choice for interactive and stimulating playtime. These puzzle chew toys engage my dog's mind like no other, keeping him entertained for hours. Specifically designed for smart dogs like Border Collies, these toys are perfect boredom busters. I can hide treats and connect the puzzle toys in various combinations, adjusting the difficulty level to challenge my dog's intelligence.
As he becomes smarter, I can increase the complexity, ensuring he never gets bored. The treat dispensing feature adds an extra element of excitement, rewarding my dog as he successfully solves the puzzle. Plus, these toys are super durable, crafted from tough, non-toxic rubber that not only withstands aggressive chewers but also cleans their teeth.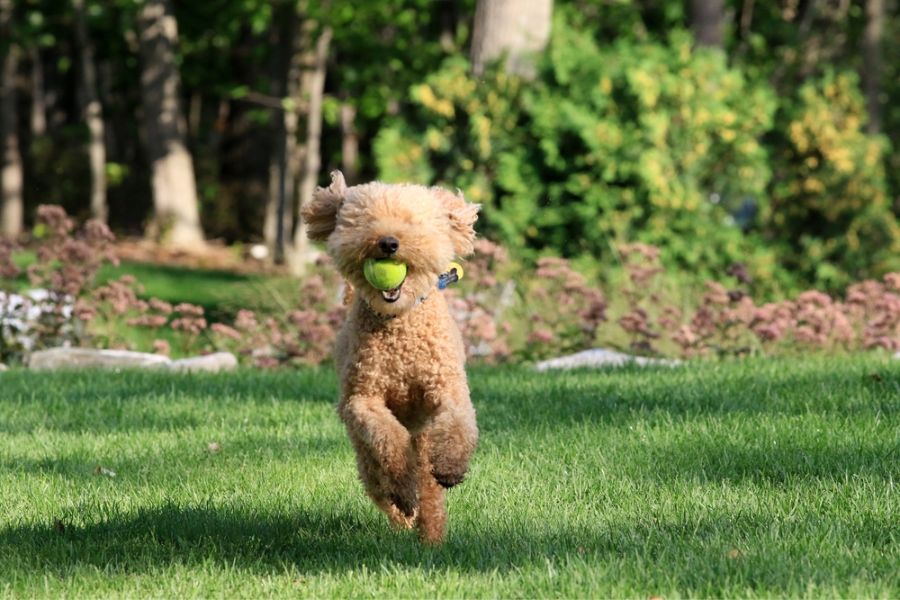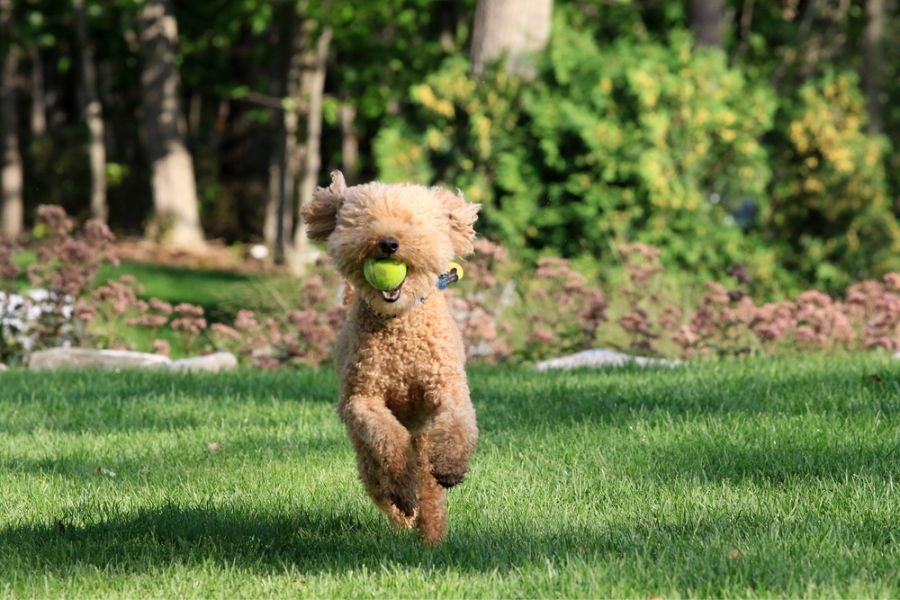 Fetch and Retrieval Toys
Fetch and retrieval toys are excellent for Labradoodles, as these breeds are known for their athleticism and love of play. These toys not only provide physical exercise but also mental stimulation, as your dog will need to understand and respond to your commands.
Toys such as balls, Frisbees, and flying discs can help improve your Labradoodle's agility, responsiveness, and coordination, and they offer an excellent opportunity for bonding with your pet.
4. Nylabone POWER PLAY Interactive Fetch Toys for Dogs
Brief Description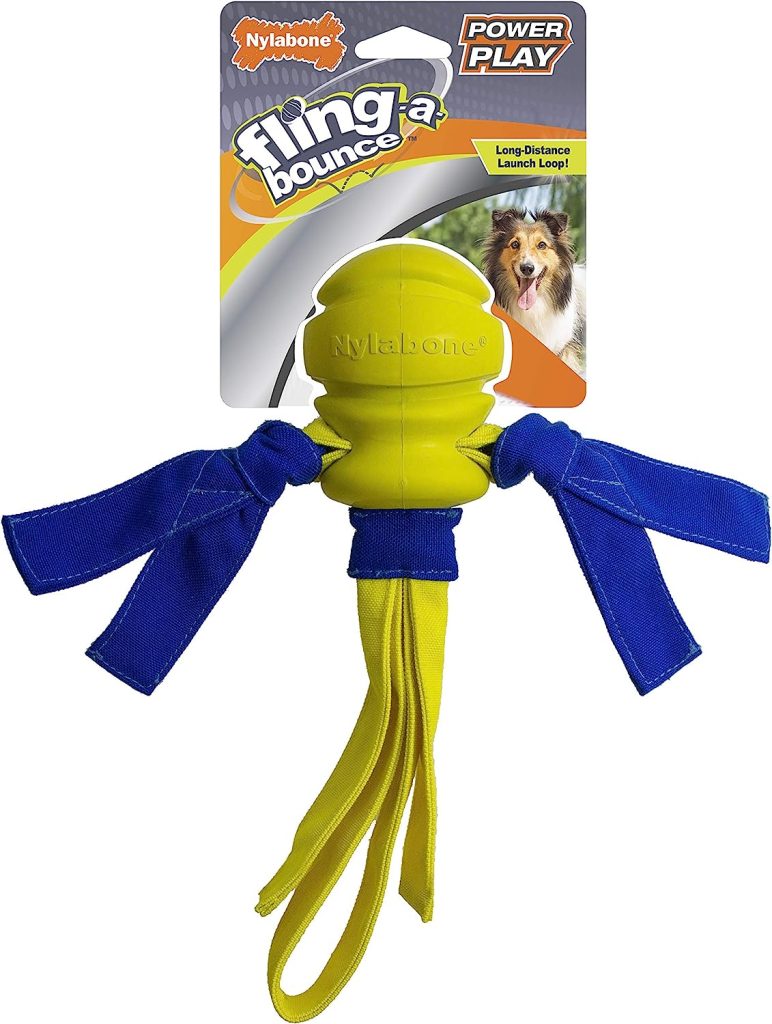 Nylabone features
Designed to bounce erratically
Can withstand vigorous play
Stimulate your dog's instinctual need to chase
Bring excitement and unpredictability to your dog's playtime
Positive and Negative Reviews from Dog's Owner
| | |
| --- | --- |
| Positive | Negative |
| Lightweight and easy for small pups to carry. | Aggressive and powerful "chewers" is not good for this toys |
| Durable and sturdy | Hard plastic is difficult for the dogs to pick up |
| Super fun and distracting | |
| Great toy for tugging, rolling around the floor | |
| It bounces all over and is unpredictable | |
Quality and Functionality
This innovative rubber dog toy features durable tease-and-tug canvas tassels that add an extra element of excitement and engagement. Nylabone Power Play Interactive Fetch Toys for Dogs are the perfect toy to take playtime with your furry friend to the next level. Designed with an easy-grip texture on the rubber ball.
One of the best things about the Nylabone Power Play Interactive Fetch Toys is their versatility. Whether you're enjoying some quality time in your backyard, playing indoors on a rainy day, or taking a trip to the park, this toy is suitable for both indoor and outdoor play. Let your dog's energy run wild as they chase after the flying toy, giving them the exercise they need while having a blast.
Comfort and Anxiety-Relief Toys
Labradoodles, like many breeds, can sometimes suffer from anxiety or stress. These toys often simulate the feeling of companionship, reducing feelings of loneliness or separation anxiety when you're away from home.
Additionally, many of these toys are designed to be cuddly and soft, offering physical comfort to your dog as well. Calming plush toys or heartbeat toys can provide a sense of security and calm for your pet.
5. SENTRY Calming Toy for Dogs
Brief Description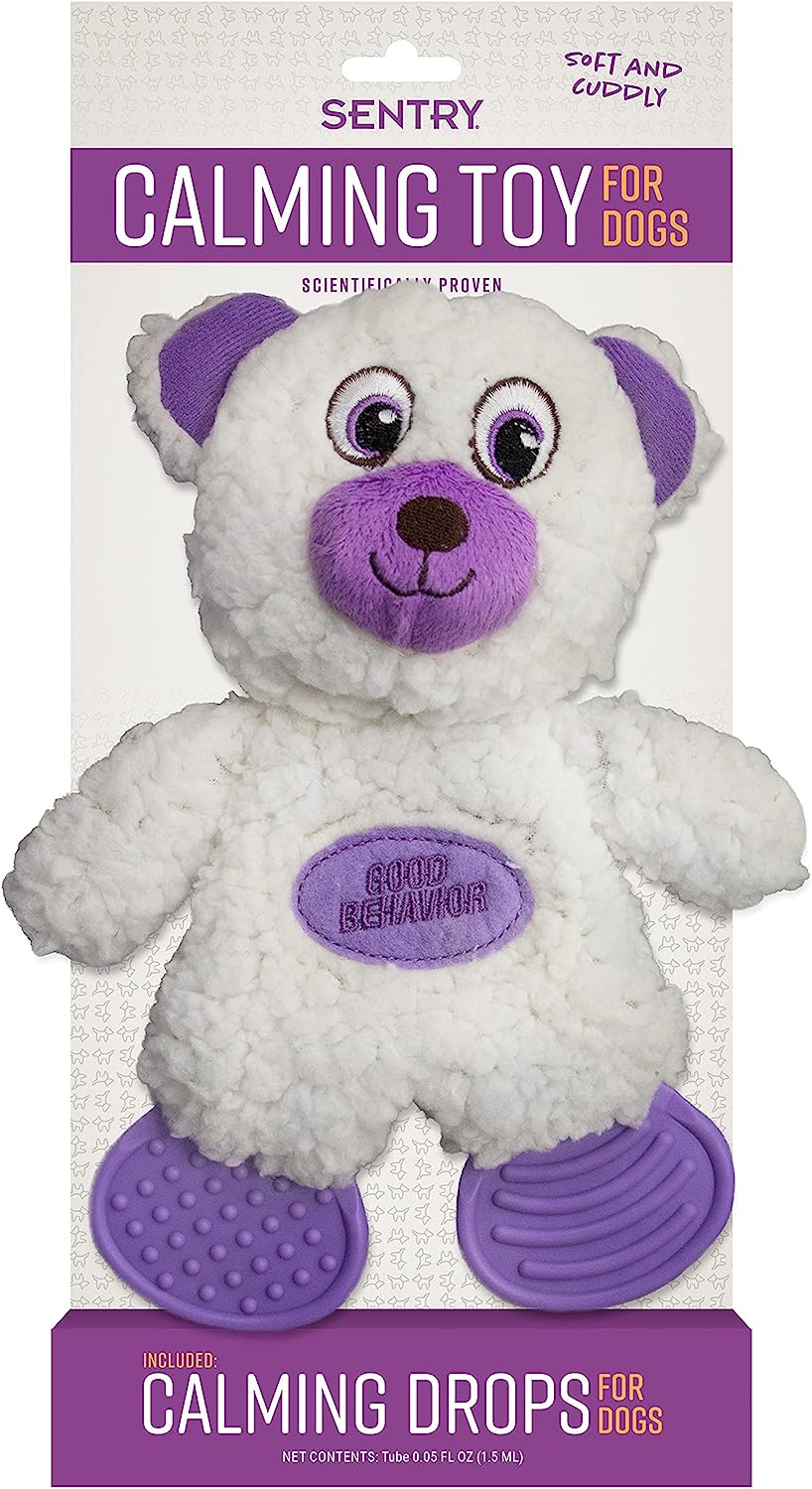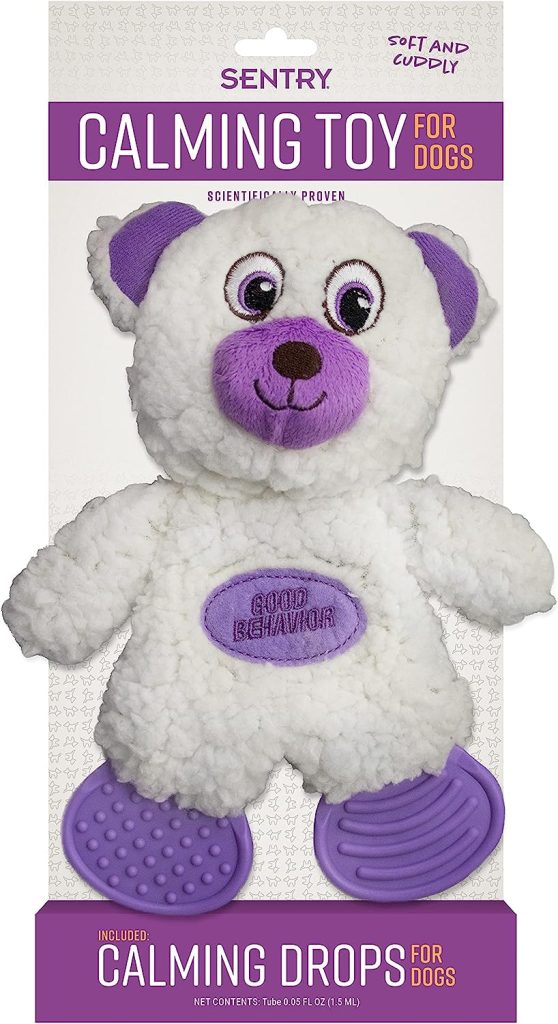 SENTRY features
Mimics a dog's natural calming pheromones
Non-toxic, durable material
Helping dogs cope with stressful situations
Soft, cuddly, and easy to carry around
Positive and Negative Reviews from Dog's Owner
| | |
| --- | --- |
| Positive | Negative |
| The scent was interesting for anxious dogs | Not suitable for chewers |
| Works perfectly for puppies and helps them having good sleep | Chewable, plastic feet |
| Work well for teething. | The drop does not work for some dogs |
| Dogs love to carry them around the house | |
| Keep them calm and quiet for a period of time | |
Quality and Functionality
Introducing the Sentry Calming Toy for Dogs, my trusted solution for calming anxious dogs and puppies. This scientifically proven toy, combined with the Sentry Calming Drops, works wonders for soothing and comforting your furry friend. The soothing toy's plush fabric gives frightened pups and dogs a sense of comfort.
When the drops are applied to the toy, they release a pheromone that dogs associate with the comforting presence of their mother during their early stages of life. You can control and reduce your pet's worried behavior with the help of the Sentry Calming Dog Toy and Calming Drops. With the aid of soothing products, you can say goodbye to tension and welcome a calmer, happier dog.
Training and Skill-Building Toys
Labradoodles, like many other dog breeds, are highly clever and trainable; thus, they may greatly benefit from training and skill-building toys. You may educate your dog to be more obedient and proficient with the use of toys like agility tunnels, weave poles, and trick-training toys.
They are useful for introducing novel behaviors, reinforcing established ones, and releasing pent-up energy. Due to the cooperative nature of training, these toys may also be used to enhance your relationship with your pet.
6. JW Tumble Teez Puzzler Treat Dispenser
Brief Description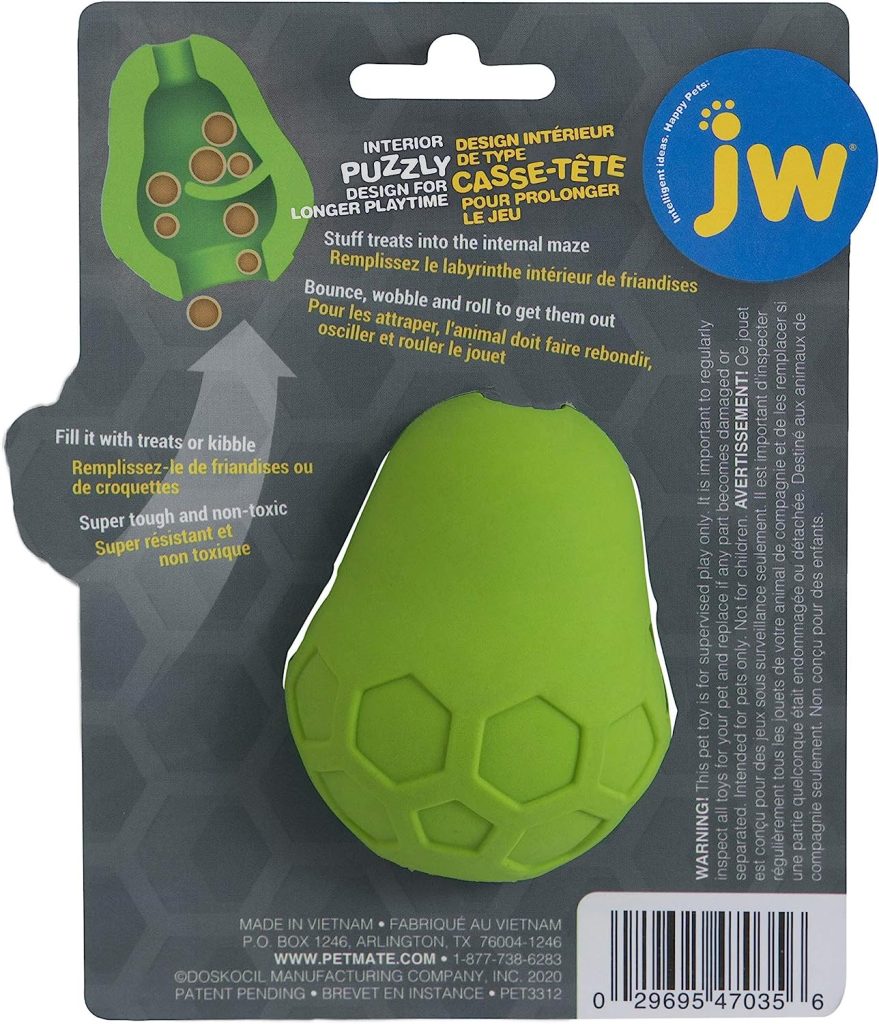 JW features
Engage your dog's natural curiosity and appetite
Non-toxic, durable material
Features an adjustable difficulty level
Stimulates your dog's instinctual desire to forage and hunt
Positive and Negative Reviews from Dog's Owner
| | |
| --- | --- |
| Positive | Negative |
| This toy can stand heavy chewers | It's hard to stuff soft food |
| Freezable | Small treats fall out quite easily |
| Fun toy, and pup loves getting his treats | |
| A Great puzzle toy for dogs | |
| Internal maze keep your puppy busy with their toys | |
Quality and Functionality
The JW Tumble Teez Puzzler Treat Dispenser is my go-to chew toy for my puppy. This interactive toy features an internal maze that allows food to travel along, sporadically dispensing treats or kibble to extend treat time and keep my puppy engaged. It provides both entertainment and enrichment, keeping my puppy entertained as they work to retrieve every treat. Available in multiple sizes and colors, this toy encourages play and helps reduce anxiety.
As part of the JW Puppy Toy Collection, it is specifically designed to meet the unique developmental needs of puppies. JW Pet Products is known for its intelligent designs that improve the lives of pets and owners. From treat dispensers to squeaker toys, they offer a full line of products to enhance playtime and strengthen the bond between you and your furry companion.