Are you struggling to find the ideal toy for your dog, who seems to have a knack for crumbling everything he bites on? With so many toys advertised as indestructible, it can be difficult to know which ones actually live up to their name. Even the toughest toys may not withstand a dog with destructive tendencies.
Finding quality toys not only helps you save money on regular replacements, but your aggressive dog will also have some fun and meaningful energy outlets.
Here are some of the best dog toys for nibblers, as suggested by our veterinarian staff who are also dedicated dog parents.
Best Dog Toys For Nibblers: Our Top Picks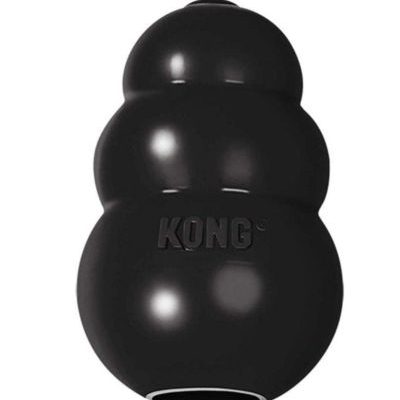 Kong features
Fetch, chew, and treat-dispensing toy
Made from solid rubber, it withstands aggressive chewers.
Soft and bouncy, it will not harm your dog's teeth.
Made in the USA
Detailed Review
You have known about the name Kong for a while, or if you are new to dog toys, you should know about the brand now. The Kong Company has a long history of producing durable dog toys; the company has been around since the 1970s. I want to introduce the Kong Extreme Dog Toy due to its durability and versatility, which many dog owners have confirmed.
These Kongs are interesting for their distinct bulbous shape and a small opening at one end. I can tell how much my babies love this chubby Kong by seeing how he interacts. He shreds on it, gnaws at it, licks it, paws at it, or tosses it around. I use Kong as a chew toy, food puzzle, and for fetching games with my dog.
Unsurprisingly, these toys are famous and known for being highly durable to strong chewers. My 3-year-old lab played with it for hours when he received the little black snowman Kong from me, and after rotating some other toys, I gave Kong back to him, and he maintained the same interest.
Kong deals well with food dispensing. You can also try freezing the food inside the Kong for a longer-lasting treat. My favorite food to put into Kong is peanut butter mixed with a small kibble.
However, it is not 100% chew-proof. While the toy still held up well and could still be used for playtime, it may not be indestructible for the most aggressive chewers. There are chew marks on the exterior of the Kong, along with some minor scratches and indentations on the surface.
And this is especially important when buying a Kong; be careful, or you will end up with the wrong size. This XL size is my rebuy. I have bought the M in the past for my retriever, and I have experienced times when my dog's tongue pushes it to the opposite end with the small hole, and he can't get it out. And with that M Kong, when I forgot to wash after my dog played, the food dried inside, and it took me forever to wash it out.
There are five sizes you can choose from. You should determine the size and stage of your dog to choose the right size and sturdy level of Kong. For me, a 3-year-old golden retriever weighing 50 lbs, the XL black Kong fits well, and it is also the product I recommend for nibblers. You should choose a smaller Kong if your dog is a small breed, like a Chihuahua.
Pros
Cons
Sturdy enough to hold dogs for a long time.
Varied in models, sizes, and durability to choose from.
Great bulbous shape, offering many playing options.
It might not hold the tougher chewers
Confused with so many size options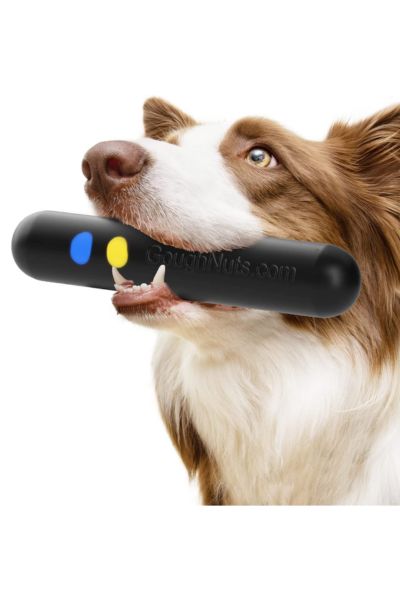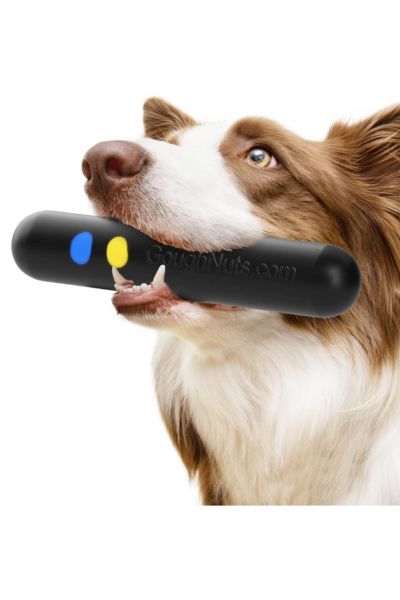 Goughnuts Features
Made with smooth, sturdy natural rubber
It comes in 4 sizes and 5 colors, each with a specific level of toughness.
Guaranteed for-life policy
Made in the USA
Detailed Review
After a while of research, I know that the black with yellow and blue dots version is the toughest, which is the product I'm talking about now.
I was also considering buying the 2-ring-connected version of Goughnuts, but I am more drawn towards the stick version because my pit bull will like to chew the stick more than the 8-shaped ring.
My parents have a pit bull who can chew through anything, so I got this as a present for him. And I have to say, amazing, because it really is "virtually indestructible," as the ad claims. It's worth the price; it is among the most expensive on this list. The sturdy rubber prevents your dog from chewing off and ingesting tiny shreds and pieces.
We hardly ever buy toys for that pit bull because he will destroy every toy in minutes. He tore them all apart, except for three items. These three toys are the toughest I've found: 1. Goughnut Training Stick 2. Goughnut Ball 3. Kong Extreme Ball As the dog chewed on this stick toy, it was clear that this was no ordinary dog toy.
This toy's rigid, resilient material holds up against his efforts, and he sometimes stops before gnawing. This naughty dog rarely gets entertained and engaged for long periods of time. I think this stick toy could withstand even the most energetic dogs.
But with this toughness, this toy is quite heavy, so you and your dog might struggle to throw and fetch it. And for the same reason, less aggressive dogs may find this toy duller since they can budge it a bit. They should have some attractive smells besides being tough, like rocks. And it is pretty pricey, so if you don't have a super-strong chewer, it will not deserve your money.
Pros
Cons
– "Virtually indestructible" holds up against the most powerful chewers.
– Sturdy rubber always remains smooth and clean.
– A bit pricey.
– Not suitable for less aggressive chewing dogs.
– The smell is not attractive.
– Quite heavy for other playing options.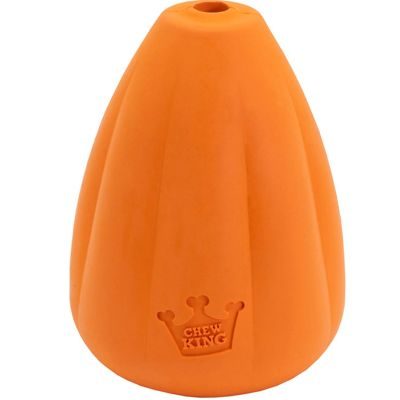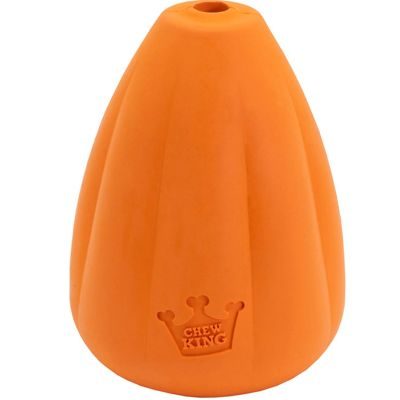 Chew King Features
Natural rubber material with bacon-flavored
Treat-dispensing and fetching toy, extremely durable
Comes in various sizes for all breed sizes; there are many packaging options with multiple items.
Country of Origin: China
Detailed Review
This Chew King Treat Toy, as its name suggests, is designed as an effective treat-dispensing toy with a hollow center where treats or snacks can be placed.
The toys have a great shape and bounce, and they are easy for my dogs to hold in their mouths. The design of the holes is similar to the popular Kong toys, with a small top hole that's 1/2 inch and a larger bottom hole that's around 1 1/4 inch.
Whenever I bring out the Chew King toy that has a bag full of treats inside, my dog's nose twitches with excitement. Even when there are no treats, the bacon flavor is like catnip for him; he can't resist the scent and will play with the toy for hours on end, trying to get every last morsel out of the center.
As with any other treat toy, I often spread peanut butter or wet food over the hole before filling it with treats to prevent kibble from falling out. I've even started freezing the toys to make the treats last longer; we do this quite often when we leave the house. While I find the Chew King toys to be more affordable than the Kong brand, I also appreciate that I'm getting two toys for the price of one.
One small issue I've noticed is that because the hole may be slightly smaller compared to the large cavity, there's often a bit of leftover peanut butter inside, even after thawing. So I tried to be careful not to spread the butter too deep inside the hole, as it can be a bit difficult to clean. And also, it is better performed as a durable food-treat toy than a really tough object for chewing, so consider if you have very aggressive chewers.
Pros
Cons
– Great shape and bounce, and is easy for dogs to hold.
– A nice bacon flavor works excellently.
– Cheaper than other chew toys.
– It might not be suitable for super-aggressive chewers.
– It is not a finished surface, so it picks up dirt and is not easy to clean.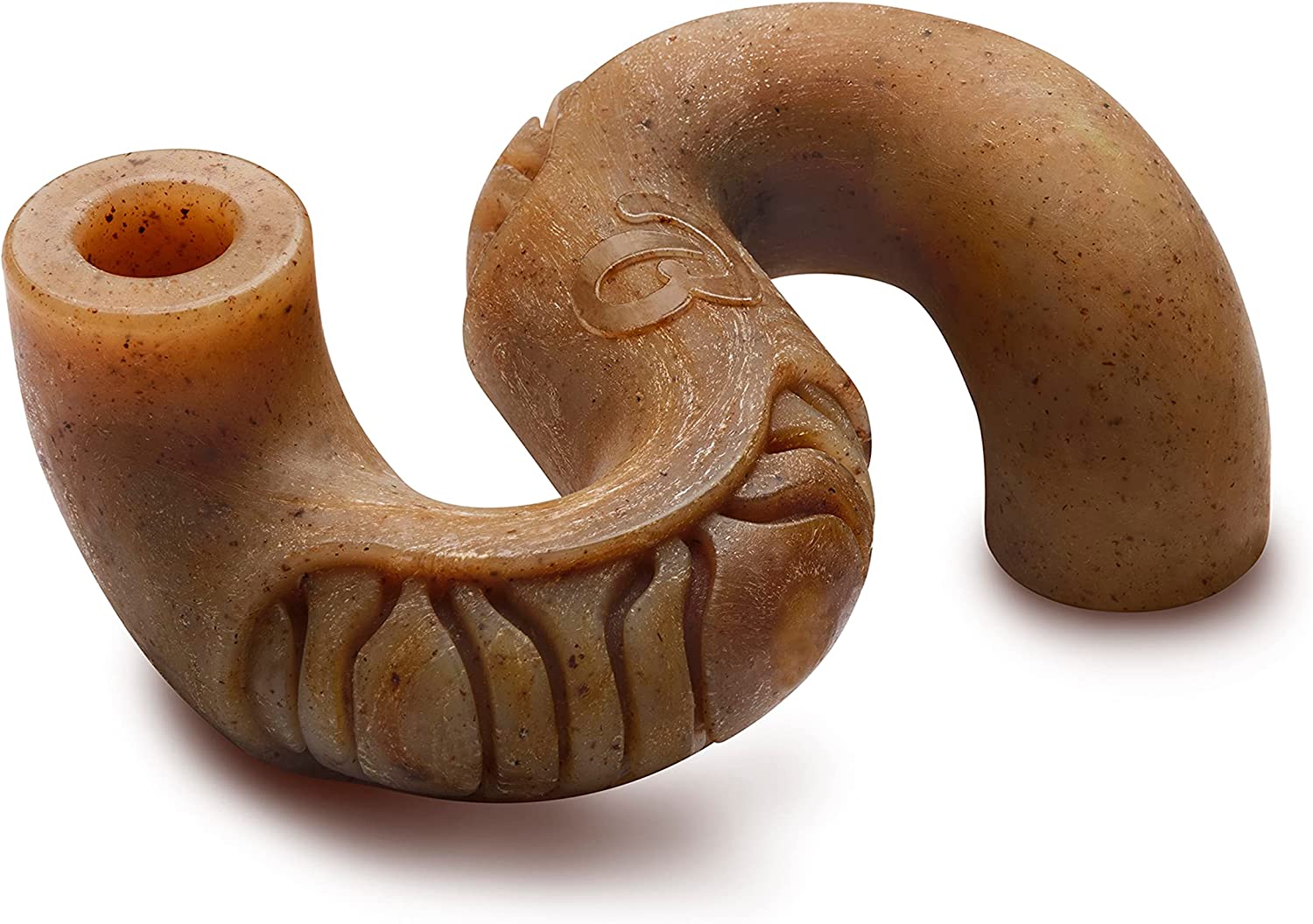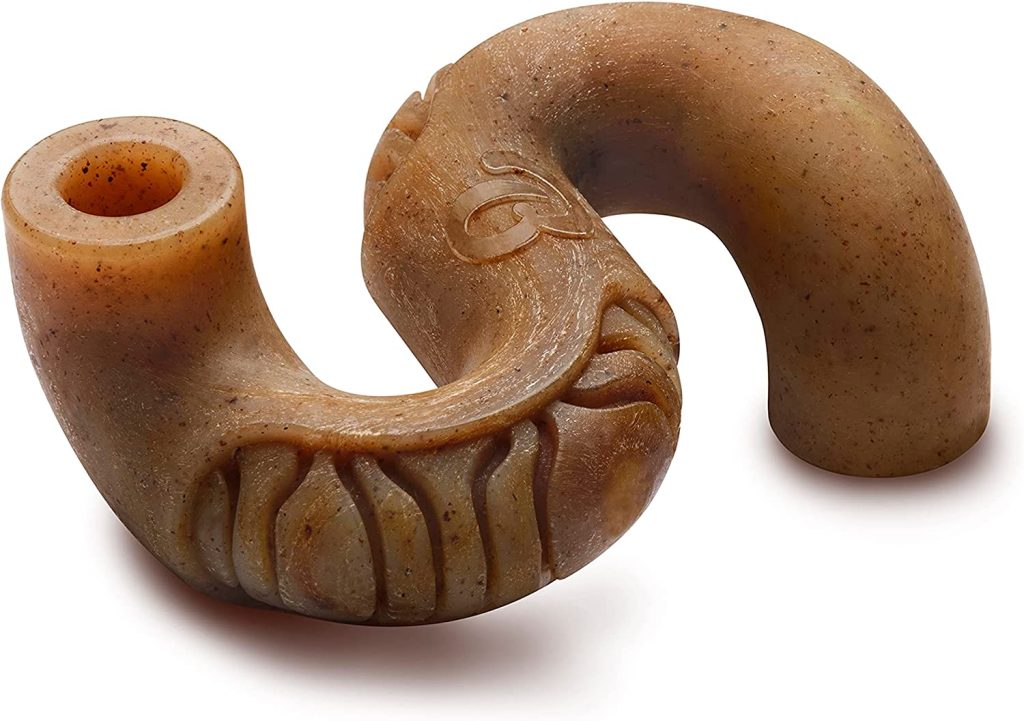 Benebone Features
Real tripe, with tripe-flavored
Curved shape for a paw-friendly grip
Made in the USA
Detailed Review
Benebone offers a wide range of products (wishbone, waggler, etc.), but this spiral one is the best.
Dogs like tripe flavor, just like they like bacon or beef. With real tripe, they are often considered more palatable and nutritious than other flavored toys. I couldn't check if this was true. But my dog shows a strong interest in the tripe's flavor by the way he snips and gnaws it voraciously. I didn't notice any disgusting smells on this tripe so far.
This one is tough; it's indestructible by any standard. Of all the toys I have mentioned, this is the first one with the longest chewed by my aggressive husky and my old pit bull and remains not so "died," knowing the time I bought it was 1 and a half years ago. But your dog should have powerful teeth to withstand this tripe bone. I'm even afraid that it harms my babies' teeth (I can hear the cracking sounds whenever the pit tries to kill this curved object for longer than 5 minutes). Luckily, my dog's teeth are strong enough to continue playing with these toughs.
Although any size of this toy can be a bit large compared to other toy lines, the curved shape of the Benebone Real Tripe toy provides dogs with an easy-to-grip surface that they can hold onto without slipping or struggling. So don't be concerned if this tripe is too big for your dog to chew; dogs of all sizes can easily hold onto this winding bone.
Letting your dog shred a tough tripe bone like this means you cannot put treats inside the Benebone. You can only stick some peanut butter at the recessive ends. I love this design anyway because your dog will not risk getting his mouth stuck inside but still get some eating treatment while playing.
It would help if you considered this toy brutal, but once it warms, it produces sharp plastic shards that can cut your dog's mouth. I recommend you closely monitor them to know when this happens and try sanding them down to smooth them out. Also, because it's too harsh, some dogs can lose interest if they can't destroy it. So it's a plus if you add treats to it every time.
Pros
Cons
– Super durable, it withstands the most aggressive chewers.
– Real tripe attracts many dogs' attention.
– Practical spiral shape for dogs to hold
-Not widely sold
– Not suitable for weak chewers.
– It can be sharp and harm a dog's mouth when worn.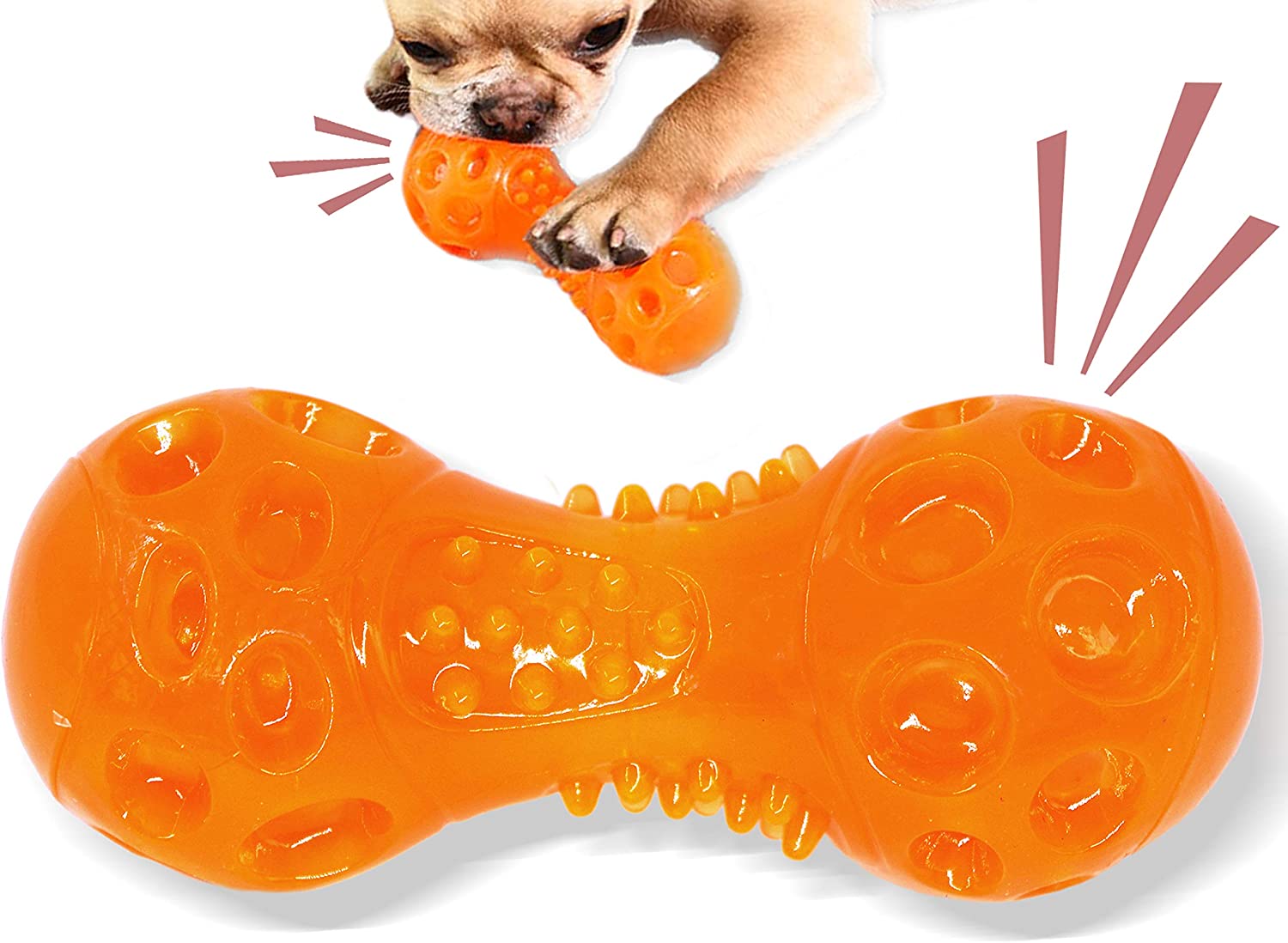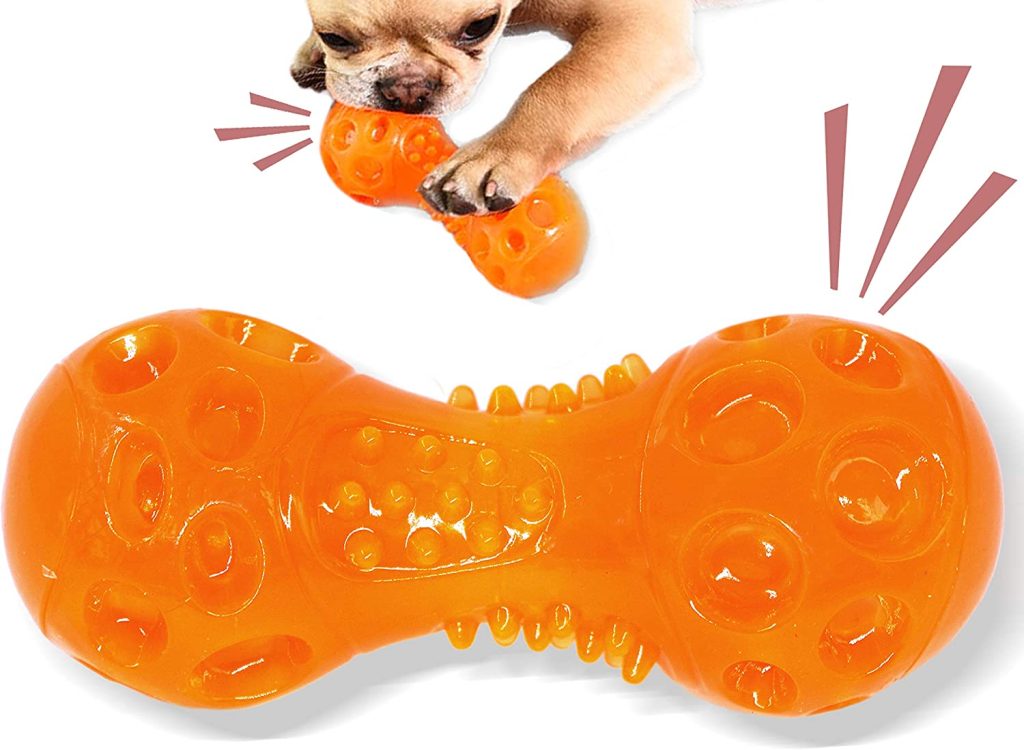 Coubon Tail Features:
Dumbbell shape, great for chew toys, fetch toys, and tug toys
The TPR material features a squeaker inside.
With bumps and spikes, the textured design helps massage the gums and prevent plaque buildup.
Designed in the USA, made in China
Detailed Review
This dumbbell toy gives me different textures from other toys. It has done well by adding to the sensory experience and making the toy more interesting for my dogs. Also, the bumpy and spiky texture of the toy will, of course, promote better oral health for the dog. The dumbbell shape with two balanced ends bounces similarly to a ball. Compared to other toys with a smoother surface, the dumbbell seems more comfortable for dogs to grip and hold in their mouths, making it great for fetching, tossing, and tugging.
Super sturdy and well-made. My husky is quite naughty and requires so much attention from me. I gave this husky this toy for the last 7 months, and still, I don't even see any teeth marks on it yet. Until the last two months, there appeared to be slight scratches on the orange surface. But it's nothing if you see how he treated the toy.
The producers do say that there is a squeaker in the toy. I didn't emphasize that a durable toy for my big dog should have more sound stimulation. But it's still a plus for this one. This toy strikes a perfect balance between durability and squeaking ability. There is a squeaker in the middle. When my dog squeezes and chomps the toy, the toy creates a funny "squeak" sound. Your fur buddies will feel even more compelled to destroy any squeaker toy.
However, if you're looking for a food-dispensing toy for your dog, a squeaky chew toy like the Coubon Tail Squeaky Chew Toy is not a good choice. This toy is designed for interactive play or chewing and may not be able to hold treats or food.
The biggest drawback of this product is the quality of the squeaker. I was not happy with how fast the toy lost its squeak. And also, while our husky plays with it, it does not squeak with every chomp.
Also, it only has one size of 5.5 x 2.4 x 2.4 inches, which can be large to chew, so if you have small puppies, don't choose it.
Pros
Cons
– Sturdy and hold up strong chewers.
– Great shape for many purposes of dog play.
– Pretty big for small dogs.
– Squeaker is not working well.
6. Pamlulu: Best Toy For Gum Massage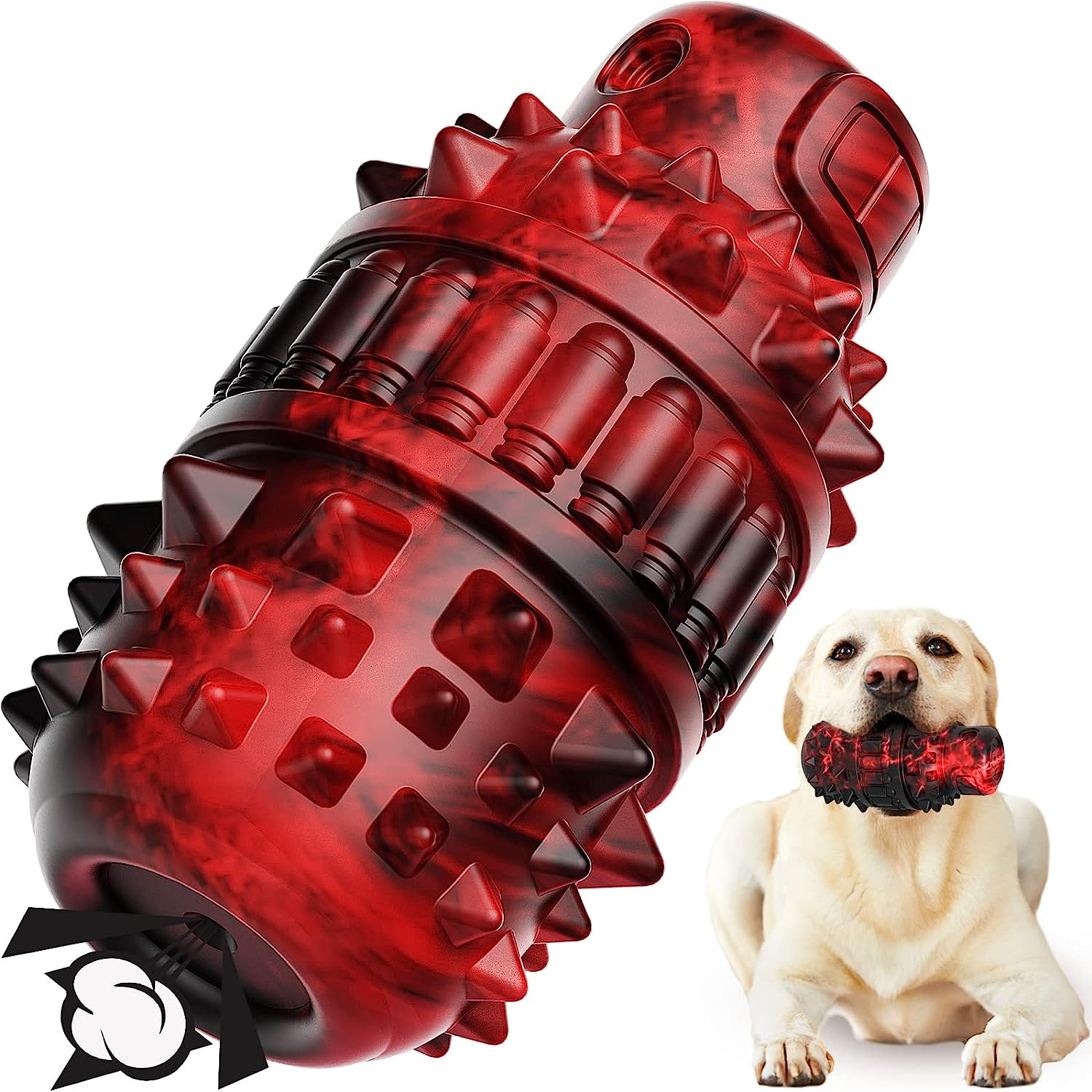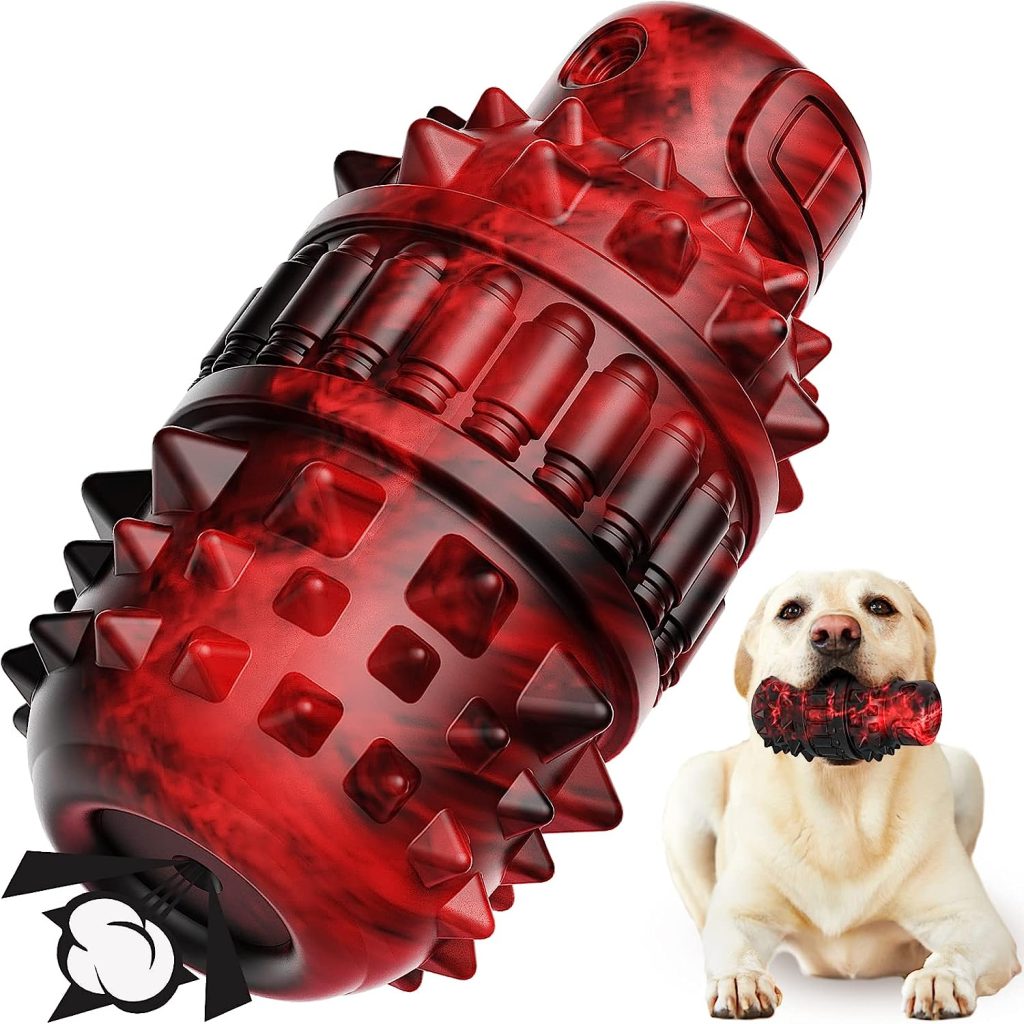 Pamlulu Features
The gas bottle design features a squeaker.
The medium size, 3 x 3 x 3 inches.
Bumps and scales for puppy teething
Detailed Review
Pamlulu provides a unique and stimulating texture for your dog to chew on, as with any toy item with bumps and scales. While the toy's appearance may not be visually appealing to humans, dogs may still enjoy the rough texture and challenge of taking on a new chew toy.
Adding a milk flavor may also make the toy more enticing for my dog and encourage them to spend more time chewing and playing with it. I love the chaotic way the toy bounces when thrown and how he seems to find comfort in rubbing his gums against the knobs.
I am sure dogs love to chew, but I think we have dogs that seem to have nothing to do with this toy, maybe because of its "ugly" appearance. But this Pamlulu is indestructible, as it claims. Once your dog finds the interest to chew on this toy, it will be the best of both worlds, help improve a dog's teeth and release some energy.
One of my dogs chewed it for months without scratching or losing anything in between. In case your dogs don't want to chew on this, you can use it for fetch and tug of war too.
Here is the genuine hardship: it's a little heavy for my lab to carry around when he weighs 19 lbs. And like many toys with squeakers, the squeaker in this toy also does not work either; it can break within days after you buy it, but you can totally buy other squeakers on Amazon for replacement.
Pros
Cons
– Quite indestructible as a chew toy.
– The rough surface is good for dog teething.
– Have the squeaker for more interesting
– Appearance makes dogs afraid to chew.
– The squeaker easily breaks.
– A bit heavy weight.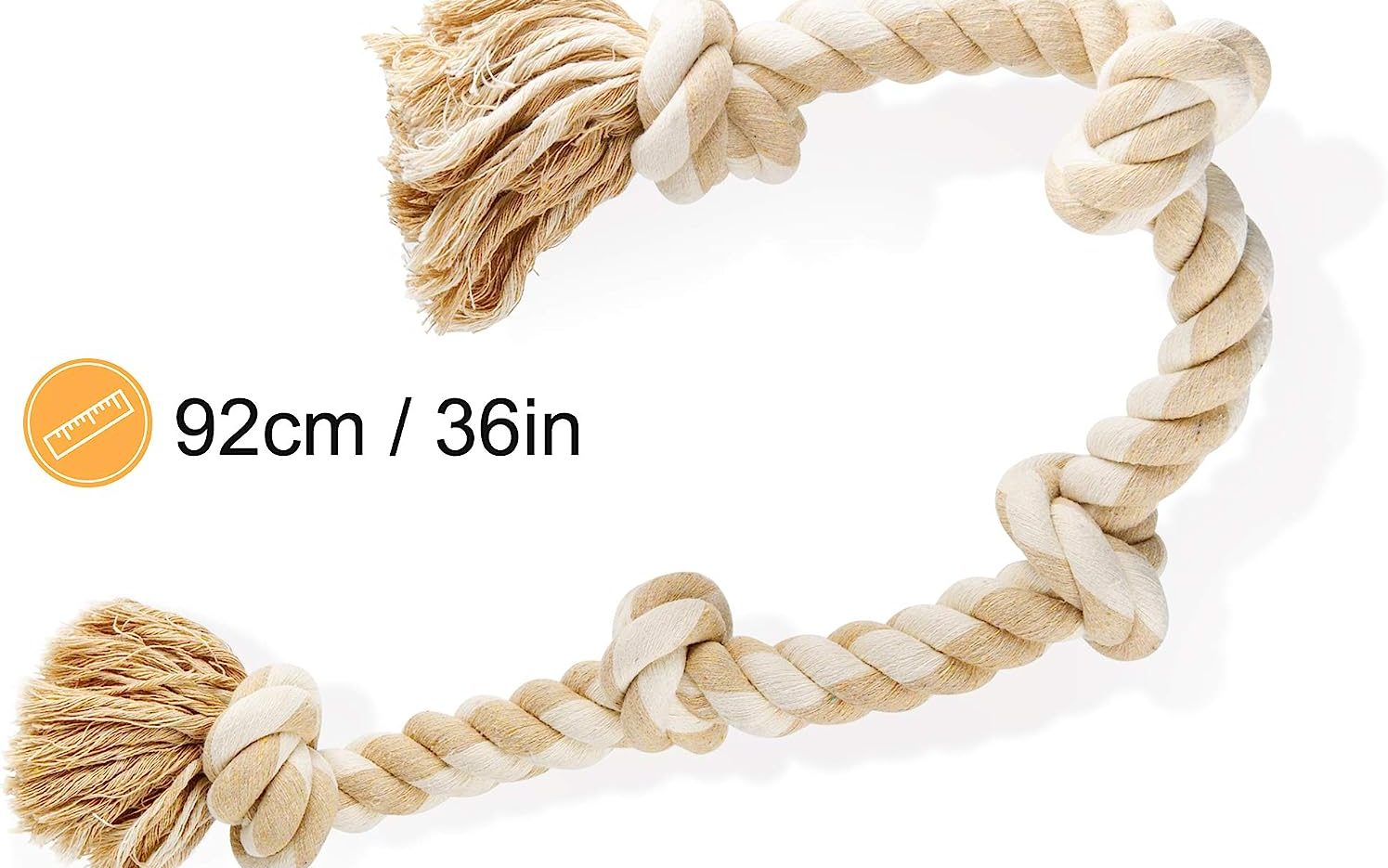 Fida Features
100% natural washable cotton, tightly woven and odorless
3 feet long, 750 grams, and has 5 knots
Durable chew toy, best for tug of war game
Country of Origin: China
Detailed Review
This rope is an unusual toy on the list. Although rope toys are generally known not to be as durable as other aggressive chew toys, this rope will still be worth the money because it is more durable than many other rope toys. It's okay to change the energy flow and create more freshness for your dog occasionally. Also, some dogs prefer the taste or scent of a rubber or nylon chew toy, while others may prefer the soft texture of a rope toy.
My dog is a large Labrador who loves to shred anything he can get his teeth on. The rope gives my labs something different they can drag around; it's sturdy. He had been playing with the 3 ft rope for two months. It is now frayed and worn in several places, but he didn't seem to mind. He chewed away contentedly, and I noticed he wagged his tail as he worked to unravel a particularly stubborn knot.
The design of the rope is nice—long enough with big and protruding knots that I am not a bit afraid that my baby will eat my finger when playing hard-core tug of war with him.
However, this will not be deemed indestructible like those rubber chew or treat toys I introduced earlier since it can wear and tear terribly if my dogs chew it all the time, and those tiny fabrics will fall out and get all around the floor. You want to avoid this if your dog usually swallows small bits of toys. Also, those big knots can hurt or rip your hands since they are knotted too heavily, in great shape, and tightly woven with a rough texture.
Pros
Cons
– Sturdy and robust for a rope toy.
– Long with big knots, excellent for tug of war.
– Made with cotton, it is clean and safe.
– Easily shredded into bits by aggressive dogs
– The knots are heavy and dangerous for the skin.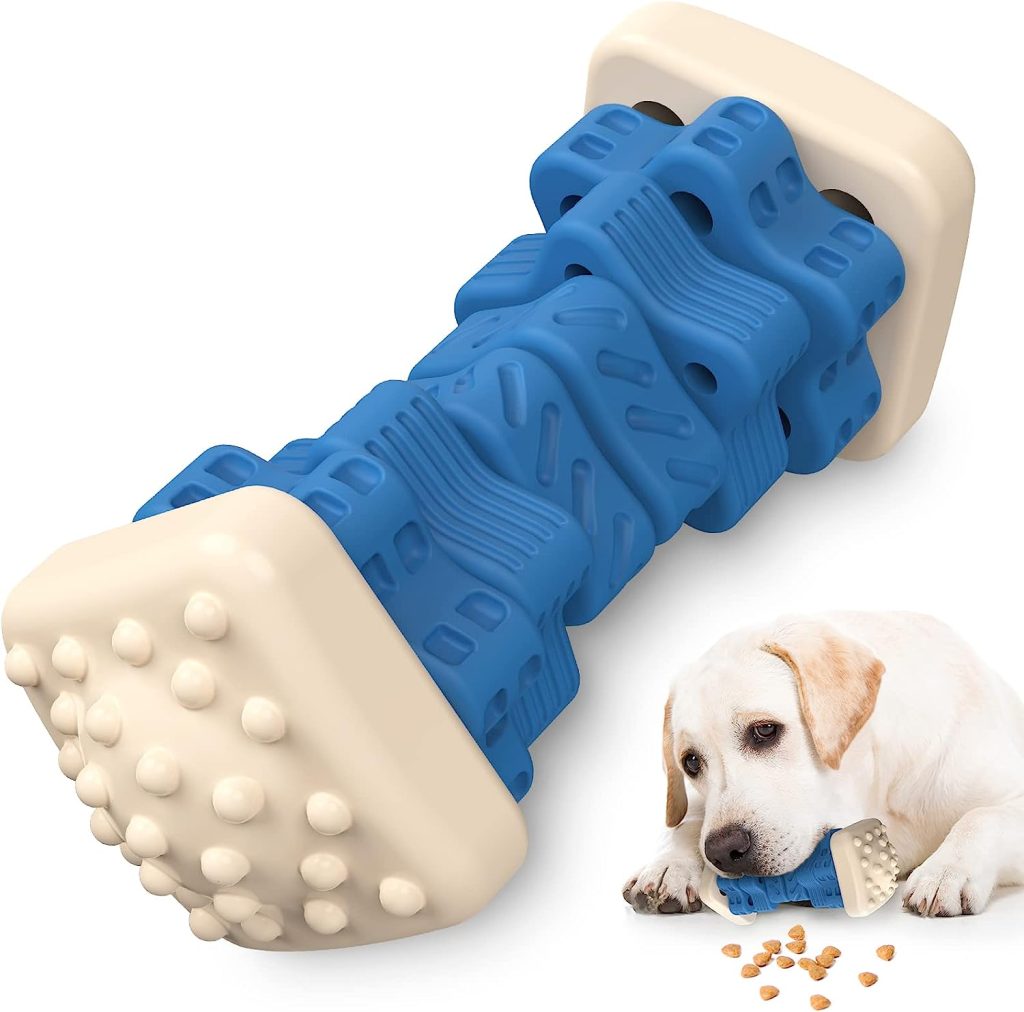 AOZOOM Features
100% natural rubber with milk flavor
Food puzzles and chew toys help them grind their teeth and relieve anxiety.
Free Return Service
Made in India
Detailed Review
This AOZOON cube is an interactive toy that catches the dog's attention for a long time. He will try to mess with it more than voraciously chew on it all the time. However, I was still surprised at how robust this toy is. As I see it, there is no visible damage to the central colored rings after 4-5 weeks. It mainly looks like a dumbbell, so you can also play fetch and tug of war with your puppy.
As I watched my dog play with the AOZOOM food puzzle toy, I couldn't help but smile at his enthusiastic efforts. He poked and prodded at the toy, trying to figure out how to get the kibbles to dispense. He chewed and rotated the squares with his paws, and as the squares turned, the kibbles came out. He's more interested in getting the treats out of the toy than chewing it. I knew that he enjoyed his treat-filled toy. It keeps him engaged and entertained for hours.
The squares and corners also work well for cleaning his teeth and removing the residue from his tongue.
But these complicated rotating squares are also a big deal for the toys since they are hard to clean. You have to sneak into all corners to clean up all the tiny treats and sticky saliva. Also, the hole on the two white ends of the toys is so tiny that I have to crush my solid kibbles, or else no food could fit inside those holes.
Pros
Cons
– A fun food puzzle toy that keeps dogs engaged
– Durable, holds up great to tough chewing
– Can play with many purposes: chew, food puzzle, fetch, tug of war
– It could be heavy for small dogs.
– It takes work to clean clearly.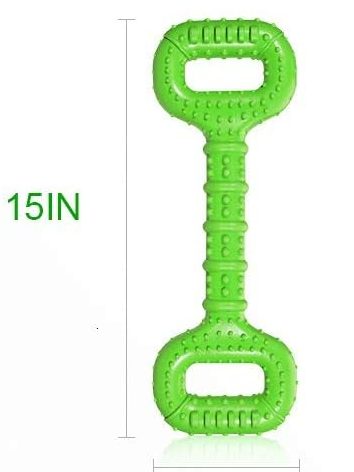 Feeko Features:
Made of 100% natural rubber with a beef smell
Large bone chew toy, 15-inch length, and 2 lb weight
Durable and great for teething and tug-of-war
Made in China
Detailed Review
This Feeko bone is strong and will deserve a spot on this list.
My dogs used to spend hours a day chewing Feeko. They eagerly played with this bone toy. The advantage that this bone offers my Labrador is its bendability. He tried to contort and bend the toy to fit into his mouth quickly. If he is not chewing it, he will try to maneuver it to his liking; maybe the buddy enjoys it when he can control and engage with the toy.
But don't you think this can bend so that it will be easily broken? As he chewed and bit down on the toy, I saw that it was firmly held again, which I thought would break after that. It took about 2 months for the toy to start coming apart.
There are handles at the two ends of the toys, which makes it easy to offer him some tugging and pulling while he still gnaws at the other end.
The problem with this toy is that it is way too heavy, so your dog can struggle to hold onto it. Only buy it if you have quite a big dog with strength. Also, its small notches have started dropping after constant chewing.
Pros
Cons
– Bone shape, great for chewing and tugging
– Durable, holding tough chewing
– It can bend, which adds more fun for dogs.
– Too heavy and limited to play many games with
– Need to be tougher for other, more aggressive chewers.