On the market, there are a lot of dog toys. Some of them are good for your dog, while others perhaps be terrible. Choosing the right one has never been more difficult.
The next toy you buy for your dog should not only be fun, but also good for their health and well-being as a whole. In this piece, we'll talk about what kinds of toys are the healthiest for dogs. You will know which toys to buy and which ones to get rid of.
What Is The Healthiest Dog Toy?
Getting a toy that keeps your dog's mind and body occupied isn't enough to make it a healthy one. The heathiest dog toy is the one that is fun, safe, and easy to clean.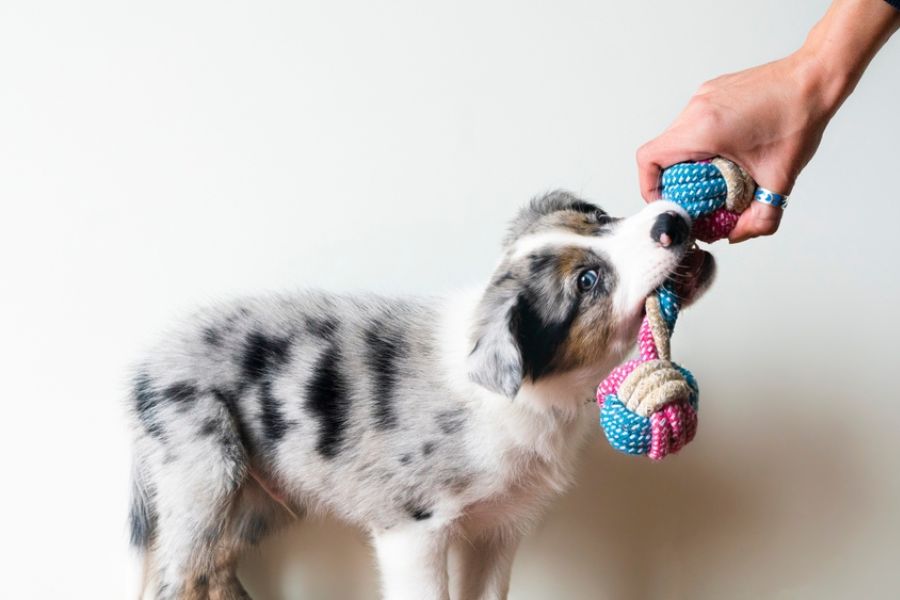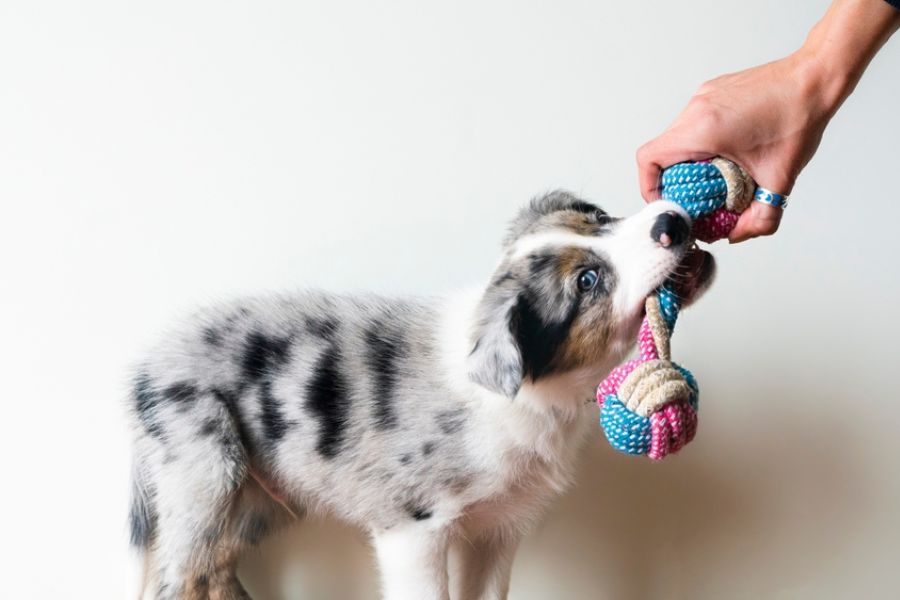 Non-Toxic Materials
One of the most important things to look for in dog toys is that they are made of non-toxic materials.
Pay close attention to any labels or certificates on the dog toys. Go for toys made of 100% natural materials like rubber, cotton, and hemp. If a toy has a strong smell or is made of synthetic plastic, it is more likely to contain chemicals that are bad for your health.
Some parts of plastic dog toys, like the structural components, and coatings, can be made with BPA and phthalates. These chemical substances can alter dogs' hormones and even cause cancer.
Safe Design
A healthy dog toy should have a design that puts safety first. A healthy dog toy has to be sturdy enough to last through chewing and rough play. This reduces the chance that the toy will break apart into small pieces and hurt our dogs.
A complicated design with small parts like bumps or ridges is also worth-noting. You should check if these small details are sturdy enough so that they can remain attached even under the high pressure of the dog's jaw.
Size and Texture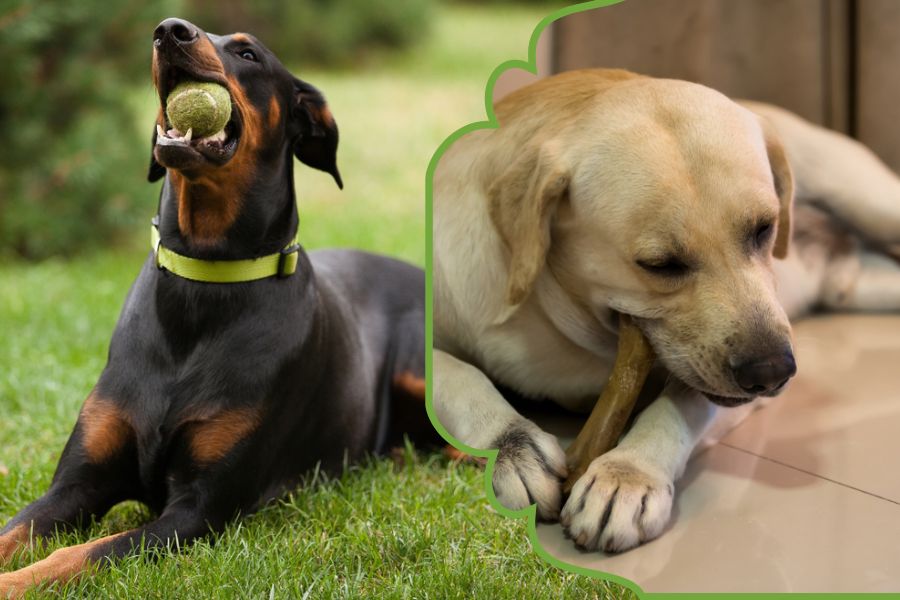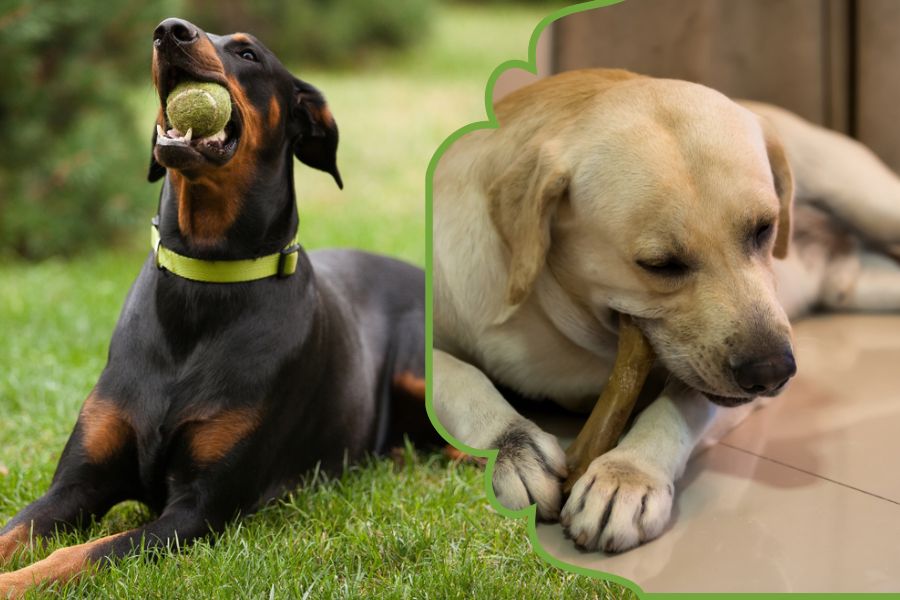 Look closely at the toy's size. This will help you pick the right size for your dog based on their breed, age, and chewing habits. With a big enough toy, a dog won't be able to swallow it or choke on it.
Also, your dog will like the toy more if you choose one with a texture that he likes.
Dogs may be interested in different textures, like smooth, ridged, chewy, fuzzy, fluffy, twisted,… There are different times when certain textures will help dogs. The smooth surface, for example, makes it easy to hold and move around while playing.
Ridged toys, on the other hand, can help dogs clean their teeth and massage their gums while they play.
Hygienic Properties
Keeping things clean is very important. Because dog toys easily accumulate dirt, saliva, and bacteria over time. Toys that are easy to wash or wipe clean help keep germs from building up.
Most of the time, rubber and plastic toys are easier to clean than plush or fabric toys, which may need special cleaners or have to be washed by hand because they are soft and easy to tear apart.
Also, toys with simple shapes like balls or frisbees are usually easier to clean than toys with complicated shapes like puzzles or ropes.
What Materials Are Healthy for Dog Toys?
Just like how junk food and nutritious food have different effects on our health. Because our dogs play with toys by chewing on them and putting them in their mouths. You should pay the most attention to what materials dog toys are made of.
Natural Materials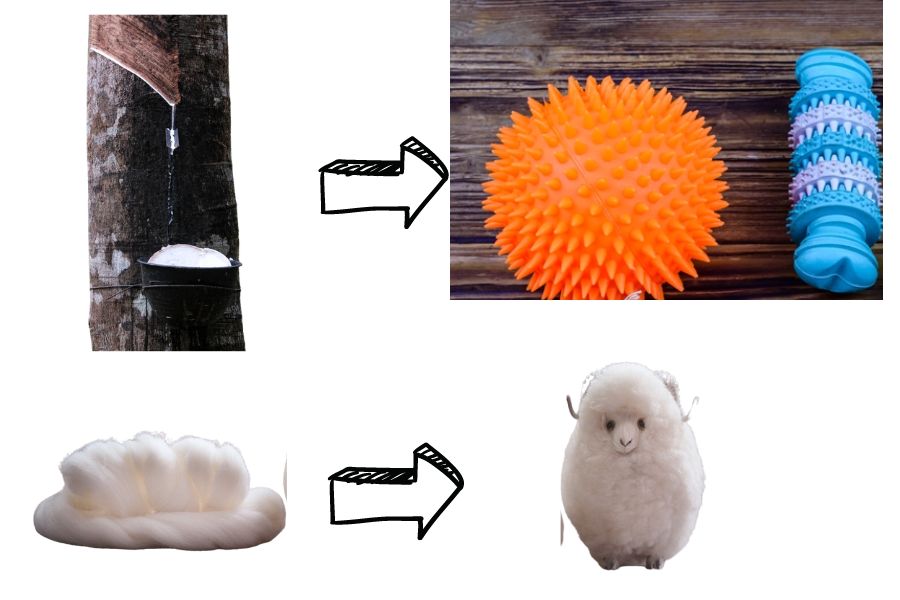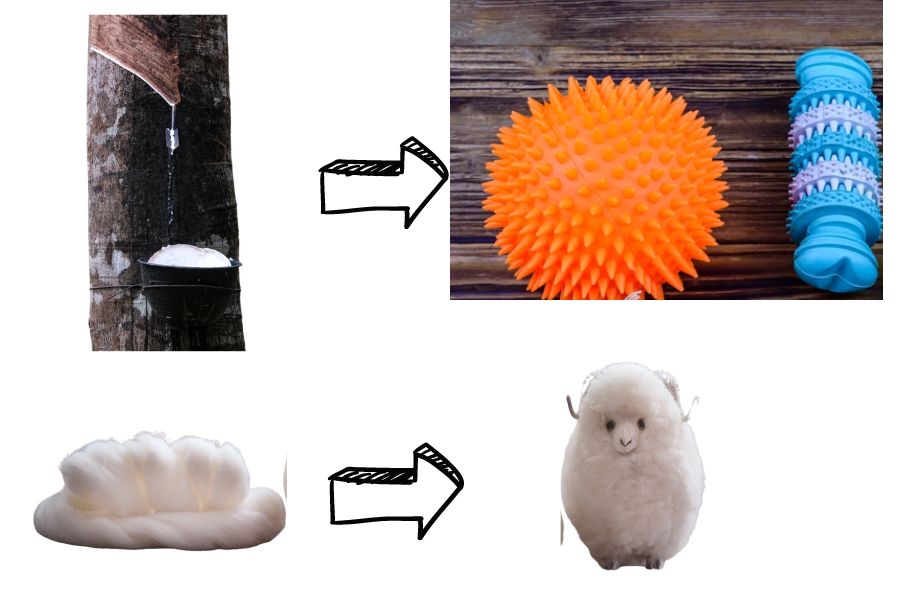 Natural materials are authentic matter that comes from plants,or animals. They are minimally processed for health's sake.
Some natural materials that can be used for making dog toys include:
Organic cotton
Hemp
Bamboo
Natural rubber or latex
Wood
Organic cotton, hemp, or bamboo are natural materials that are easy on a dog's teeth and gums. Natural rubber or latex toys are known for being strong and bendable, and dogs who like to chew will enjoy these materials.
Read more: What is the best material for dog chew toys?
Natural materials are also referred to as eco-friendly because they are renewable, dissolve, use fewer chemicals, and produce less carbon dioxide.
On the other hand, synthetic materials are man-made. Several problems that are usually related to synthetic materials include toxic chemicals, allergies, or durability concerns.
Presence of toxic chemicals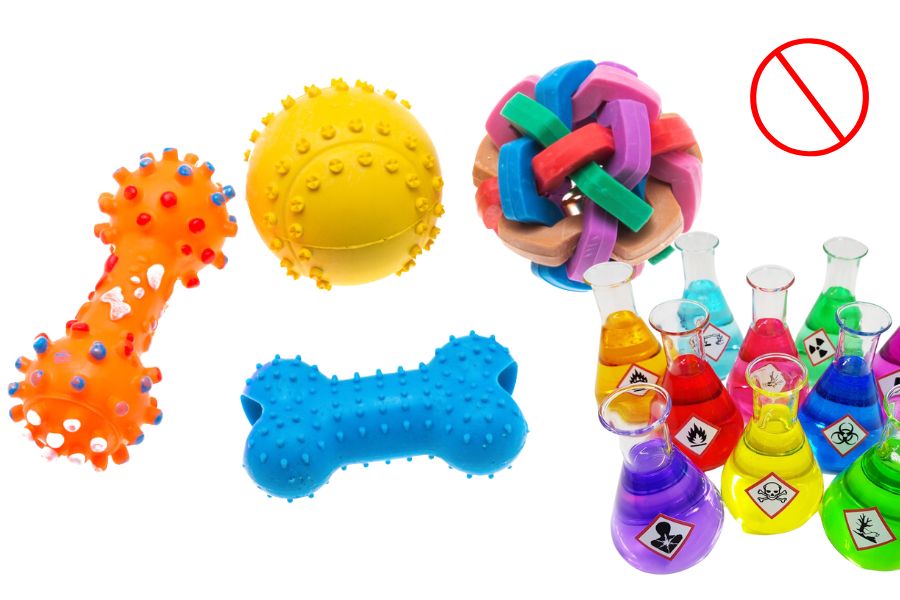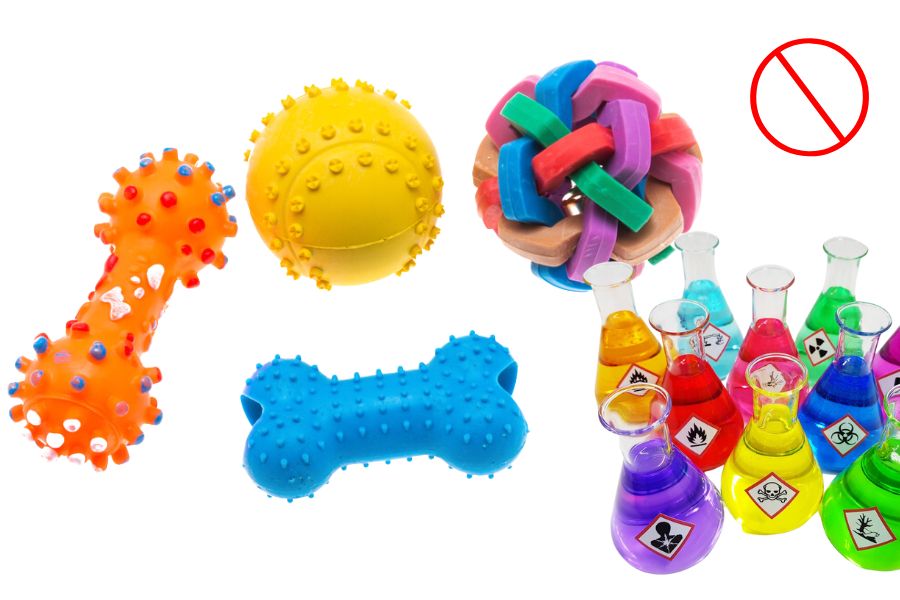 In addition to the main materials used to make dog toys, there are even other chemicals used in the coats or finishes of the products. Most of the time, these added chemicals are used to improve traits of toys like water resistance, taste, or feel.
Polyurethane: This is a flexible polymer that is used to make water-resistant coats and sealants.
Acrylics: These are a group of synthetic resins that are often used in paints and coatings because they last a long time and give beautiful colors.
Formaldehyde: Formaldehyde is used as a glue or preserver in some materials.
Phthalates: Phthalates make plastics softer and more flexible. Their use is becoming more limited because of recognized health risks.
Bisphenol A (or BPA): Bisphenol is used to make some types of plastic. It has been linked to changes in hormones and health problems.
You should check the labels or call the company that made the product to learn about the amount of these chemicals in your dog's toys. A reputable company will clearly tell you about the materials and chemicals they use. They will also give certifications or test results to show that the toy meets safety guidelines. If possible, check for these certifications like CPS, NASC, or VOHC, on the toys you buy for your dogs.
In conclusion, you should learn about toys to keep your dog safe and entertained. Also, discover more about your dog's habits and tendencies so you can buy the best, healthy toy for them.