Dogs have a knack for turning household items into chew toys or playthings. You will find some destructive dogs usually leave a trail of mess in their wake.
However, providing them with appropriate toys can help turn their destructive behaviors into more constructive outlets.
So what toys are best for dogs that destroy everything?
Today, we will guide you on how to find suitable toys. So that we can create a safer and happier play time for both us and our four-legged friends.
Why do your dogs have destructive tendencies?
Destructive chewing and other behaviors can be a normal part of a dog's development and exploration. Dogs may engage in some level of shredding or tearing of ordinary items like paper, cardboard, or even the occasional teddy bear.
However, there are instances when they can cause more serious damage to valuable assets. Some items that are most frequently destroyed are:
Books or papers
Garbage or recycling bins
Carpets
Toys
Remote controls or other electronics
Shoes
Furniture (e.g. sofas, cushions, table legs)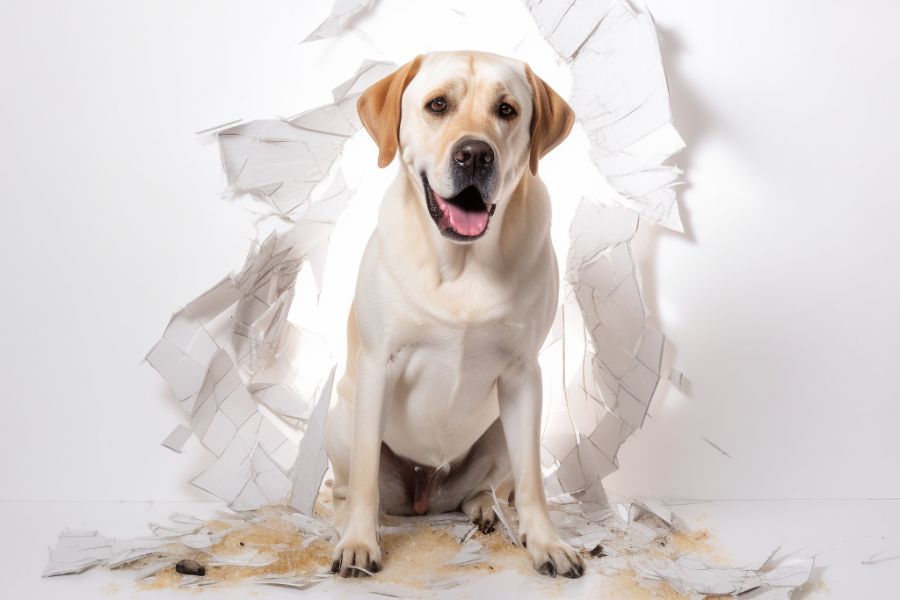 Some soft items, like papers and books, are popular items on dogs' shredding and trashing lists. But they can feel unsatisfied afterward because they find them easy to destroy. They may start looking for other items in the house that can fulfill their needs. Unfortunately, this sometimes means they end up choosing and damaging your valuable belongings, like shoes or furniture.
Dogs are inherently friendly animals and are cherished as our beloved companions. They are known for their loyalty and obedience.
Therefore, if you discover that your dog is misbehaving and destroying everything, it is a clear sign that they are facing underlying issues. These underlying issues could be stress or mental problems.
What to Do When Your Dog Is Destructive?
Your dog's actions leave you feeling frustrated and your belongings damaged. Maybe you should explore ways to help them find relief and feel better.
Try some tips we suggest below to restore the relationship with the little, adorable family member you've nurtured.
Be patient with your dog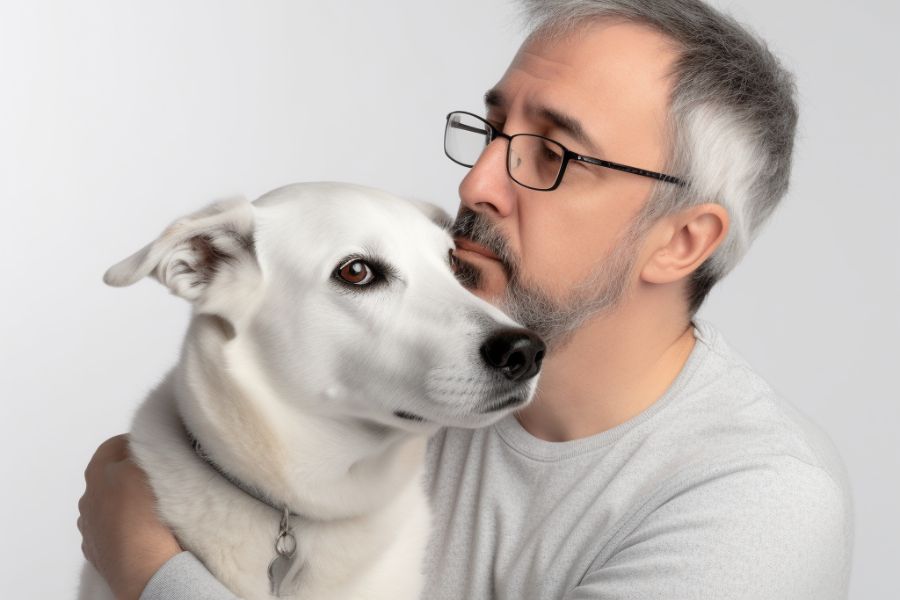 Some people believe that if dogs destroy things, they deserve to be punished. Maybe after punishment, their dogs won't repeat bad behaviors. But this approach doesn't actually help. Punishing dogs only makes the situation worse.
On the contrary, what dogs need is more care and dedicated time to address their problems. Spending quality time with your dogs is important. Engaging in activities that they enjoy, such as going for walks or playing games. Being patient and fulfilling their needs can reduce destructive behavior.
Besides, using positive reinforcement methods, such as rewarding good behavior with treats or praise, is also really effective in forming desirable habits.
Read more: How to deal with a dog that likes to shred
Use toys to redirect bad behaviors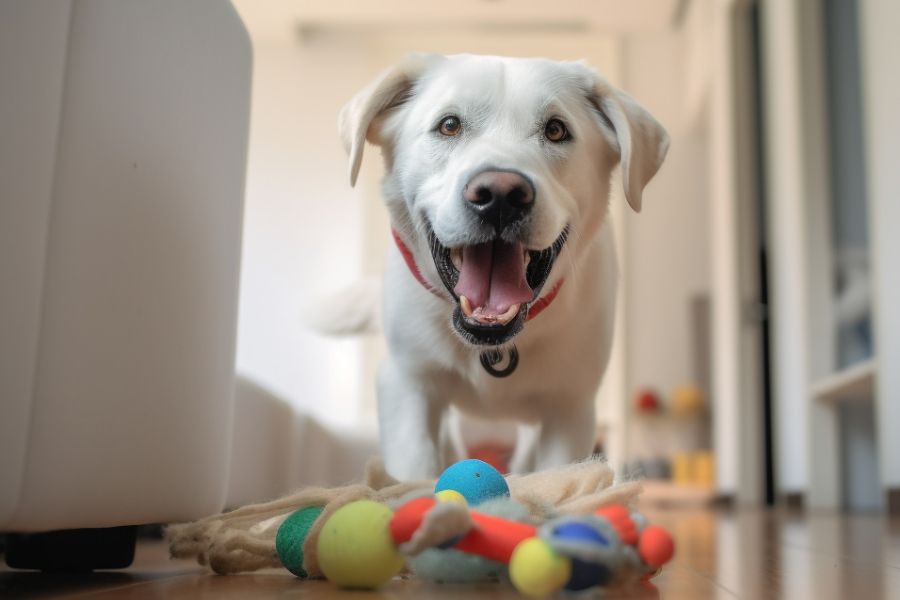 In addition to actions of affection, using specific types of toys can help redirect dogs away from destructive tendencies.
By providing dogs with suitable toys, we can redirect their destructive tendencies towards more appropriate outlets.
These toys offer satisfying enrichment and a safe alternative for dogs to channel their natural instincts. Instead of targeting household items, they can focus their energy and attention on the toys, keeping themselves occupied and content.
How to Choose Toys For Destructive Dogs
Choosing toys for a destructive dog requires you to do some research and consider some of these main factors, because if you do not meet them, you will end up wasting money and time buying another toy.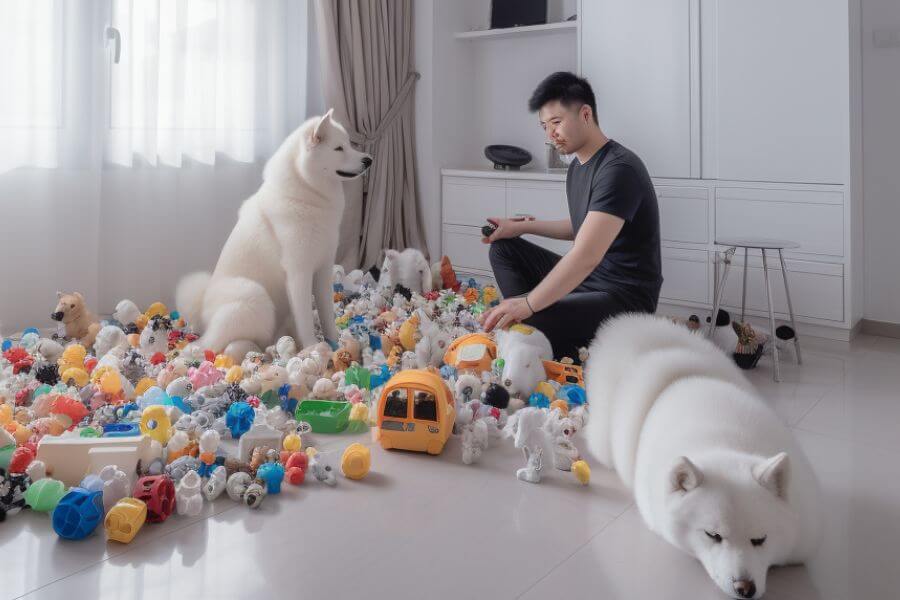 Durability and toughness
The key characteristics to look for when choosing toys for destructive dogs are toughness and durability. Destructive dogs have a tendency to chew aggressively.
The toys must be able to withstand their strong jaws and rough play style. Some durable materials for toys are rubber, heavy-duty nylon, or tough canvas.
Avoid toys that are easily torn apart or have weak seams. Your dog can incidentally eat small parts torn apart and choke him/herself.
Note: Regarding materials like nylon or rubber, you should also prioritize toys made from non-toxic materials that are safe for dogs to chew on.
Metal stimulating features
Toys with interactive and mentally stimulating aspects benefit destructive dogs. These toys engage the dog's mind, redirecting their negative inclinations into positive, stimulating play. Interactive and stimulating toys require the dog to think and work to access rewards, helping to alleviate boredom.
Look for toys that offer puzzle-solving elements, treat-dispensing features, or hidden compartments.
Toys with sound effects like the ones that come with a squeaker are also very stimulating to dogs. The squeaker effects can sound like a prey that urge dog to destroy.
Read more: Are Squeaky Toys Bad For Dogs?
Size and texture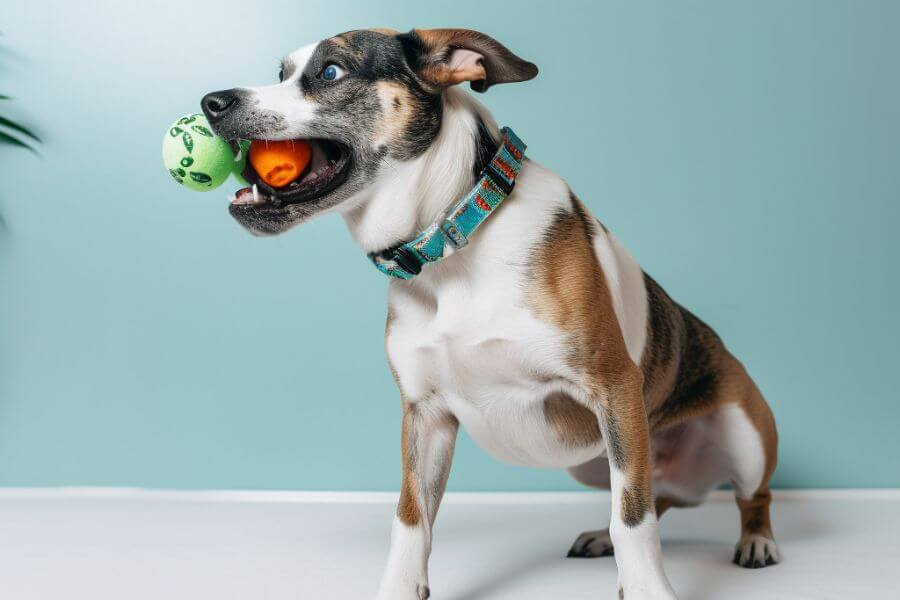 Consider the size and texture of toys for your dogs. Size matters to ensure the toy is appropriate for the dog's breed and chewing strength. Avoid toys that are too small and could potentially be swallowed.
On the other hand, oversized toys may be challenging for the dog to grasp and manipulate. They will lose interest if the toys are not accessible.
As for texture, there are different textures, such as knotted ropes, rubber spikes, or plush surfaces. Try to see which ones your dog finds most interesting.
What Kinds of Toys are Best for Destructive Dogs?
Now that you know what qualities to seek in toys, here is a list of the most common types of toys that will calm your stubborn, spoiled dog:
Indestructible chew toys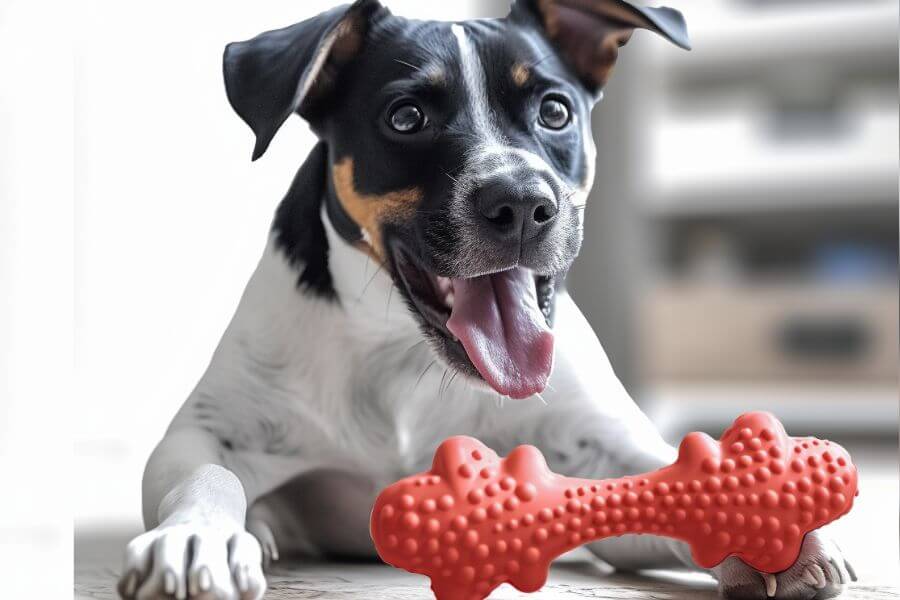 Rubber and nylon toys are known for their durability and toughness. These toys can withstand the strong jaws and aggressive chewing of destructive dogs, providing them with a safe and long-lasting chewing outlet.
Rope toys are another excellent option for dogs that enjoy chewing and tugging. Opt for rope toys made from durable materials, such as thick braided or twisted ropes. These toys can withstand vigorous chewing and tugging sessions.
The toys can also promote dental health by helping to clean the dog's teeth and massage their gums.
Mental stimulating toys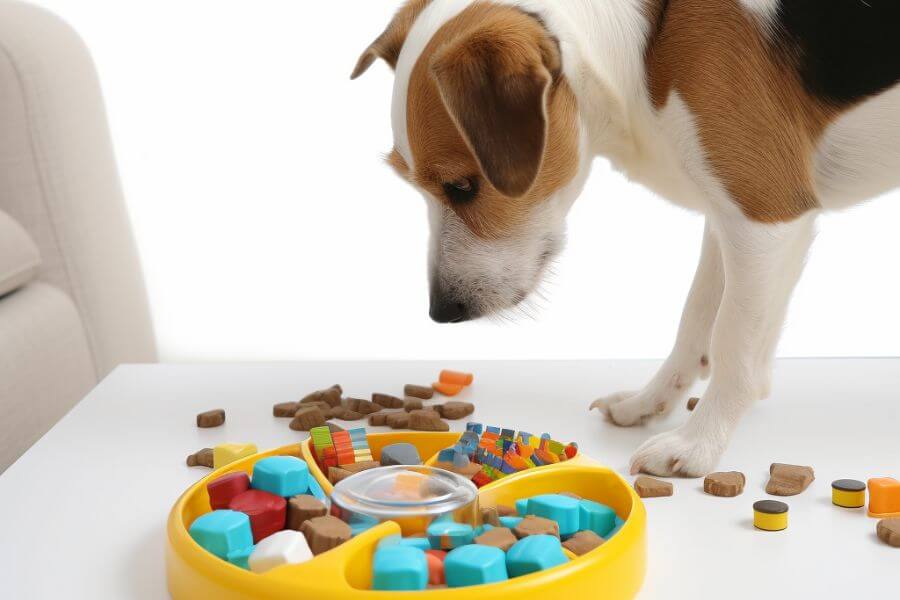 Interactive food puzzles are designed to challenge and engage a dog's problem-solving skills. These toys typically have compartments or hidden sections where treats or kibble can be placed. Dogs must figure out how to access the food, keeping them stimulated and redirecting them into focused play.
Another option, treat-dispensing toys, which are a great way to keep destructive dogs entertained and mentally engaged. These toys are designed to hold treats or kibble, requiring the dog to work and manipulate the toy to retrieve the rewards.
Interactive toys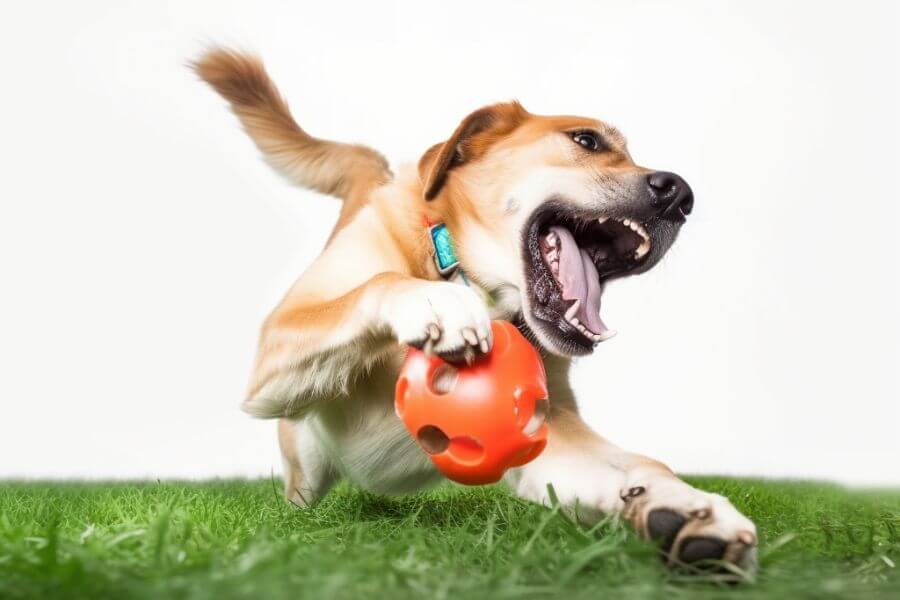 Rubber balls and fetch toys are ideal for interactive play sessions. These toys can be used for games of fetch, providing a healthy outlet for the dog's energy while promoting exercise and bonding between the dog and their owner.
On the other hand, tug-of-war toys are perfect for interactive play with dogs that enjoy tugging and pulling. Choose sturdy ropes specifically designed for dogs, with strong knots and handles for a secure grip.
Now you know which kinds of toys you are likely to be buying next time. Read our review of the best toys for strong chewers that our team highly recommend!
Conclusion
Offering your messy dog indestructible chew toys, like puzzle toys, treat dispensers, interactive toys, and tug toys, is easy. By doing so, you provide appropriate outlets for your destructive dog's energy and encourage healthy play habits.
But remember to always supervise your dog during playtime and inspect toys regularly for any signs of damage or wear. Besides, replace damaged toys promptly to ensure the safety of your dog.